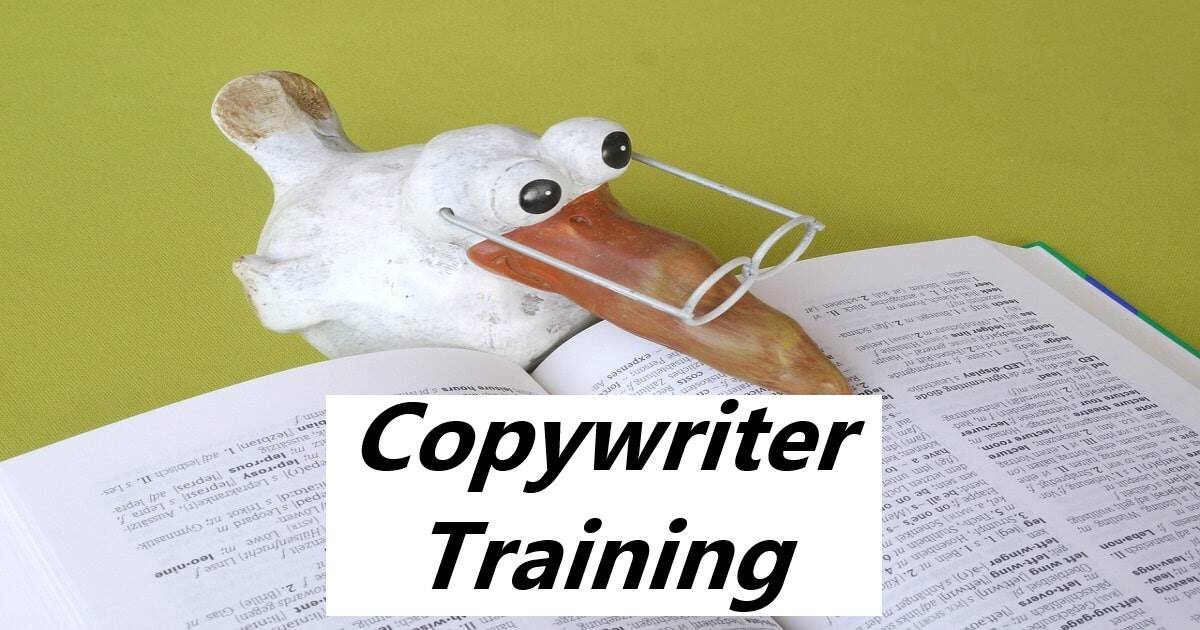 As a copywriter, your job is to use persuasive words and craft messages that engage readers, persuade them, and inspire them to take action. If you're interested in working in this creative and exciting career field, a relevant copywriting training is a good place to start. In this article, I will show you what a copywriter does, how you can train to become a copywriter, where you can find such training, and the advantages and disadvantages of copywriting training.
What does a copywriter do?
A copywriter is a professional copywriter who creates content for advertising and marketing purposes. Copywriters are used in a variety of fields, including print advertising, online marketing, social media campaigns, email marketing, and more. Your job is to write creative and compelling copy that grabs the attention of the target audience, sparks interest, and inspires action.
Copywriters must have the ability to understand information about a product, service or brand and turn it into an effective message. You need to be able to match the tone and language of the particular company or brand and appeal to the desired audience. A good copywriter understands the psychology of sales and knows how to target readers' emotions and needs.
Who needs copywriters?
Practically any business can benefit from the services of a copywriter. Advertisers, marketing agencies, e-commerce companies, startups and independent entrepreneurs are always looking for talented copywriters to improve their sales copy and increase revenue.
Copywriter training – How to become a copywriter?
To become a copywriter and work as one, you don't necessarily need an education. Many copywriters work as career jumpers and have taught themselves their skills. However, it may be wise to consider a copywriting training or even a degree program, as this will prepare you professionally for the line of work from the start. You will also potentially earn more moneyif you can prove that you have a recognized degree.
Where can I go for copywriter training?
Copywriter training can be done in a number of ways. Here are some options for where you can train to become a copywriter.
Private copywriting schools
There are various schools and educational institutions that offer special courses or training for aspiring copywriters. Here are some well-known copywriting schools:
Texterschmiede: Texterschmiede is a renowned copywriting school with locations in Hamburg, Berlin and Cologne. It offers various trainings and courses in copywriting and copywriting. The trainings include theoretical lessons as well as practical exercises and projects.
School of Writing: The School of Writing offers a variety of courses and training in writing, including courses on copywriting and copywriting. Courses can be taken online and offer a flexible learning environment.
Textakademie: Textakademie is another well-known educational institution that offers courses and workshops for aspiring copywriters. The courses cover various aspects of copywriting, from conception to implementation of advertising copy.
SAWI: SAWI is a marketing and communications school based in Switzerland, but it also offers courses and training in Germany. They offer a wide range of courses in communications, advertising, and copywriting that provide in-depth training in the field.
Creative School: The Creative School is a private educational institution with various locations in Germany. It offers a variety of creative trainings, including copywriter trainings and courses.
Studies in the field of communication or marketing
Many colleges and universities offer courses and programs that specialize in communications, marketing or journalism. These programs can include courses on copywriting and help you understand the basic concepts of writing for advertising and marketing.
In particular, a degree in communications, journalism, marketing or a related field can provide a solid foundation for your copywriting career. While studying, you'll learn important concepts of marketing, advertising, and writing that are relevant to copywriting. You will have the opportunity to try out different writing styles and techniques and improve your skills.
Distance learning
There are several distance learning programs and online courses designed to train aspiring copywriters. Here are some examples of distance learning courses in copywriting:
ILS Institute for Learning Systems: The ILS Institute for Learning Systems offers a distance learning course to become a copywriter. The course covers various aspects of copywriting, including copywriting, conceptualization, strategy, and client communication.
SGD-Studienzentrum: The SGD-Studienzentrum offers a distance learning course to become a copywriter. The course provides knowledge and skills in copywriting and copywriting as well as fundamentals of communication consulting.
Dual Copywriter Training
At some advertising agencies, it is possible to complete a dual copywriter training program. You will work in the agency during the day and have a theory block in the evening. In this way, you receive a sound education and gain important practical experience at the same time.
Copywriting agencies and mentorship programs
Some copywriting agencies offer training and mentoring programs to help aspiring copywriters. These programs can provide a combination of theoretical instruction and hands-on experience to help you develop your knowledge and skills under the guidance of experienced copywriters.
Copywriting courses and workshops
There are many Copywriting courses* and workshops that can help you improve your skills and learn specific copywriting techniques. These courses can be offered online or face-to-face and cover topics such as writing compelling headlines, creating call-to-actions, and writing for various media. They often provide hands-on practice and feedback to sharpen your skills.
Gaining practical experience
Copywriter training or not, hands-on experience is critical to succeeding as a copywriter. Take every opportunity to practice your writing skills and build your portfolio. Volunteer to write for non-profits, create content for blogs, or start your own project. The more you write and revise your texts, the better you will become.
How much does a copywriter training cost?
The cost of copywriter training varies widely, depending on the type of training and the provider. Studying at a university or college can be more expensive, while online courses and workshops are usually less expensive. Prices can range from a few hundred euros to several thousand euros.
SEO Copywriting
One important skill that every copywriter should master is SEO copywriting. SEO (Search Engine Optimization) refers to the optimization of texts for search engines in order to improve visibility and ranking in search results. SEO copywriting includes integrating relevant keywords, optimizing meta tags, improving page structure, and creating high-quality content that is attractive to both search engines and readers. Mastering SEO copywriting increases your chances of success as a copywriter, as many companies are looking for professionals who can create content that is both search engine friendly and marketing appealing.
Copywriter training advantages
You have to decide for yourself whether it makes sense for you to complete a copywriter training. Ultimately, your talent, your flair for language is crucial to being a successful copywriter. This is something that an education can only teach to a certain extent. Nevertheless, copywriter training offers advantages:
Expertise: Copywriter training allows you to learn important copywriting concepts and techniques professionally that can give you an edge over others. You'll learn to create compelling and impactful content that grabs the attention of your target audience.
Hands-on experience: many trainings include practical exercises and projects that allow you to apply your skills and improve your writing. You receive feedback from experts and can continuously develop your skills.
Networking opportunities: An apprenticeship gives you the opportunity to network and socialize with other aspiring copywriters and industry professionals. Building a network will help you in future collaborations and open up new career opportunities.
Copywriter training disadvantages
There are also some potential drawbacks to copywriter training:
Cost: Copywriter training comes with a cost, and not everyone can afford to go through expensive training. If your budget doesn't allow for an expensive degree program, consider dual enrollment and look for scholarships or cheaper online courses*.
Conclusion: Copywriter training
Copywriter training can be a valuable investment to start or advance your copywriting career. Through an apprenticeship, you can learn important skills, gain practical experience, and build a professional network. There are several ways to get copywriting training, whether it's through a degree program, online courses, or mentoring programs. Consider the respective pros and cons of each education, weigh them, and choose the option that best fits your needs and goals. With the right training and especially a passion for writing, you'll launch a successful career as a copywriter and easily find your footing in the world of marketing and advertising. Because copywriters are in high demand!
If you want to know how exactly to make money with copywriting, either as a freelancer or even with your own online copywriting business, check out this post.
---
Building passive income is the ultimate discipline in investing and making money. In this article you will learn how to build different types of passive income.
One type of passive income is investment income (interest and dividends) from instant-access and fixed-term deposits, stocks, ETFs, Crypto-Coins and P2P loans. Here are my personal TOP 3 investment providers for generating passive income streams. Sign up and get discounts and bonuses:
Top 3 Providers for your Investment
Personally, I use all three providers – for a maximally diversified portfolio consisting of instant-access and fixed-term deposits, stocks, ETFs and crypto as well as P2P.
---