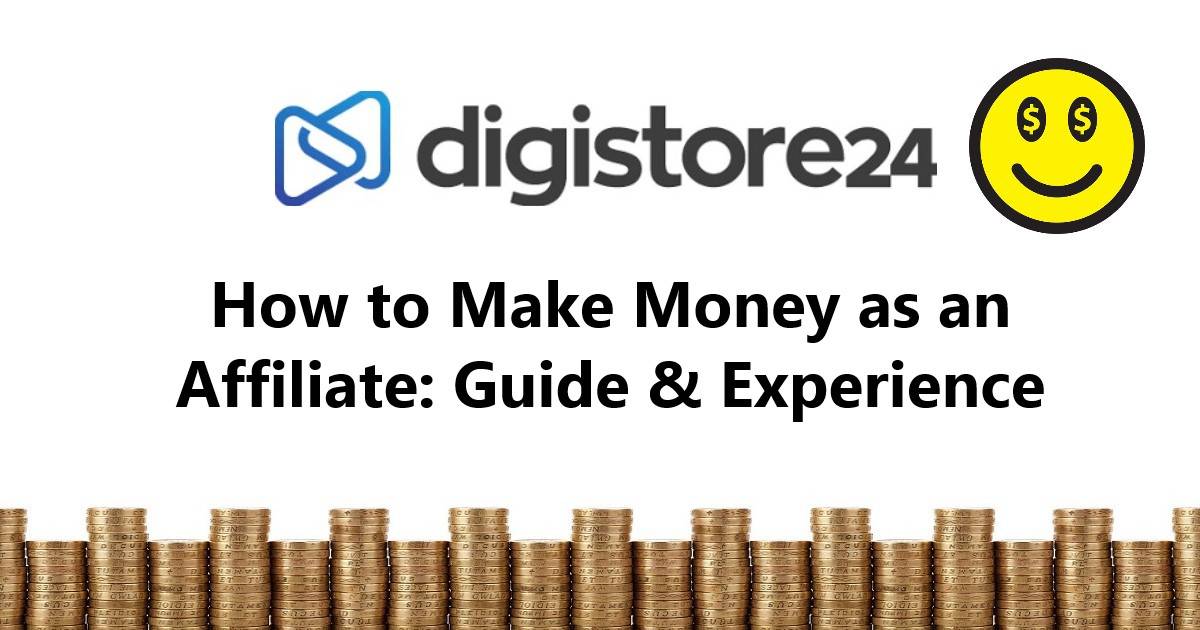 You want to make money online, but you don't have any startup capital? Don't worry, there are ways to generate revenue without a financial commitment. One of these options is Digistore24, an affiliate marketing platform that allows you to promote other companies' products and receive commissions for it. In this Digistore24 Review you will learn what Digistore24 is, if it's legit, how to make money with Digistore24, a corresponding step-by-step guide, how much money you will earn and what alternatives are available.
What is Digistore24?
Digistore24is a platform operating since 2012, which allows digital product manufacturers to sell their products and at the same time include affiliates who promote these products. As an affiliate you can choose from a wide range of digital products such as online courses, e-books, software or memberships and promote them through your individual affiliate link. Digistore24 represents one of the largest affiliate networks in Europe and supports you with numerous tools to optimize your conversion.
How can I make Money with Digistore24?
Generally, there are two ways to make money on Digistore24. Either you register as a vendor and sell your own products through the platform or you register as an affiliate and sell the products of others and receive a commission when selling through your links.
Whether you want to earn money as an affiliate or vendor on Digistore24 is up to you. Both options have their advantages and disadvantages. Also, by registering with Digistore24 you are not limited to one of the income types. You can promote products and make money with one account without any problems both as an affiliate and as a vendor.
If you don't have your own digital products yet, you'll have no choice but to promote other people's products in the beginning. On the other hand, earning money as an affiliate on Digistore24 is very easy. There's a huge selection of digital products bundled together that you can promote on your website, social media, or anywhere else. As an affiliate on Digistore24 you pay nothing at all, fees are only charged when someone has bought something through your affiliate link. You see, earning money on Digistore24 as an affiliate is 100% free and without risk
As far as in advance how you can make money in general on Digistore24. Now a Digistore24 review and guide, from registration on Digistore24 to the first sale.
Digistore24 Guide: From registration to the first sale
Here I'll show you a step-by-step guide on how to make money with Digistore24 – from registration to your first sale.
Registration on Digistore24
The first step to make money with Digistore24 is to register on the platform. This is free of charge and uncomplicated. Simply enter your user name, email and a password and specify whether you want to register as a vendor or an affiliate.
As mentioned at the beginning, as a vendor you are a product manufacturer, which means you sell your own products on Digistore24, while as an affiliate you promote the products of other vendors and you receive a commission when sales are made through your links. But don't worry, even if you initially register as an affiliate, you can later sell your own products as a vendor and vice versa.
Then enter your personal data and answer a few questions about yourself or your company. Then confirm your deposited e-mail and you're ready to go!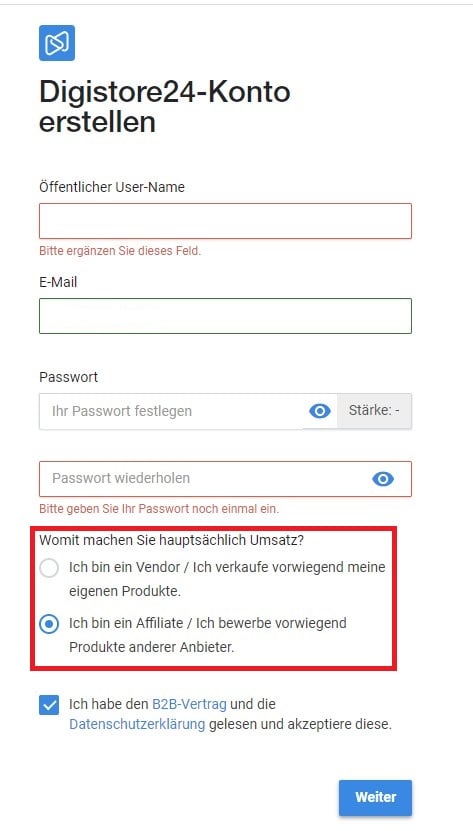 Find a suitable Product
In Digistore24 overview you will find two view options at the top: "Affiliate" and "Vendor". Change the view depending on whether you want to sell as a vendor or affiliate.
In the "Marketplace" section you will find a variety of digital products that you can advertise as an affiliate or as a vendor you can list your own products there. But we want to focus here on making money as an affiliate.
Browse the different categories in the marketplace or use the search function to find a product that fits your target group and interests you.
Pay attention to the commission you are offered for the sale of the product, as well as the cart conversion and cancellation rate. No matter how high the commission may be, as long as the product does not convert, it brings you quite little. Therefore, it makes sense to choose products with a high conversion and low cancellation rate, even if the commission itself is somewhat lower. Before you finally decide to buy an affiliate product, you should click on the product's sales page to check its seriousness. A general Google search can't hurt either, after all, you don't want to sell junk.
Note: Change the language in which the displayed products are written by clicking on the respective country flag in the top right corner. This way you can display only English or German language products.
Download Marketing Material of the Affiliate Product
For many affiliate products there are marketing materials such as images and banners that you can download from the respective product-specific "Affiliate Support Page". Download the promotional material you need and at the same time read how or where you are allowed to promote the product. For example, you may only promote some products on a blog and not via email marketing, etc.
Get your Affiliate Link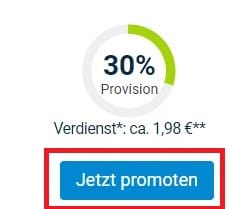 Once you find a product, you generate your custom affiliate link. This link contains your affiliate ID, which allows Digistore24 to track your commissions and assign them to you. To do this, click on "Promote now".
Promote the Product
Now it's about promoting the product and directing potential buyers to the sales link. Here are some proven methods to improve your affiliate marketing and make more money on Digistore24:
Create a Website or Blog: Build a website or blog where you share relevant content around the product and niche. Optimize the content for search engines to generate organic traffic and integrate your affiliate link into the articles or product reviews.
Use Social Media: Create presences on platforms like Facebook, Instagram, Twitter or YouTube to engage your target audience. Share engaging content, videos or reviews that point to the promoted product and add your affiliate link.
Email Marketing: Build an email list and send relevant information and offers to your subscribers on a regular basis. Make sure you craft your emails strategically and include the affiliate link in the email to generate sales.
Paid Advertising: If you have a budget, you can also use paid advertising to support your affiliate marketing. Platforms like Google Ads or Facebook Ads allow you to run targeted ads and make potential buyers aware of your product offering.
Make money with Affiliate Marketing: A general guide with many tips can be found in this post.
Keep in mind that a method that works well for one product may not work at all for another, so now the real work begins, namely optimizing your sales campaigns with the goal of achieving the highest possible conversions and thus earning a lot of money on Digistore24.
Tracking and Optimization
Regularly monitor your sales statistics and analyze the success of your campaigns. Digistore24 offers a detailed tracking system that allows you to track the number of clicks, sales and commissions. Analyze your results and optimize your strategy to maximize your profits. Generally speaking, traffic is key: the more traffic you drive to your affiliate links, the higher your chances of sales and commissions. At the same time, of course, your target audience has to fit.
The first Sale on Digistore24 – Withdraw Money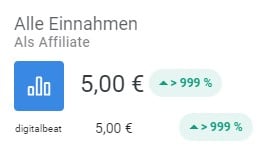 Congratulations! The first sale and thus the first revenue are always something special. Under "Reports" –> "Analytics" you can view your earnings in detail. The question that now arises is: How do I get my money? In order for you to be able to pay out your earnings to your own account, you must do the following or the following requirements must be met:
Set up Two-Factor Authentication
Set a Payout Account (under "Account" –> "Payout Account")
Reach a Payout Threshold of at least €50
How much Money can I Make with Digistore24?
The earning opportunities at Digistore24 are diverse and depend on various factors. This includes the commission rates of the products you promote, the number of sales you generate, and the amount of product costs. Some affiliates earn only a few euros per month, while others can earn tens of thousands of dollars per month.
Earning money with Digistore24 is not particularly difficult, as there are no barriers to entry and you don't need any startup capital to become an affiliate. However, in order to be particularly successful as a Digistore24 affiliate, you need a large reach. Additionally, you should think about building a platform where you can sell your own products (as a vendor) or products of others as an affiliate. Experience has shown that a blog of one's own is particularly well suited for this purpose.
I would recommend creating a blog via WordPress.org because WordPress is free and there is a large community that can help you create the blog. If you need professional help building your blog or affiliate landing page, I would recommend hiring a freelancer to do it for you. On the Freelancer Platform Fiverr* you can find many highly qualified website developers who will be happy to create your blog for cheap. By clicking the following button you will get 10% discount on your first Fiverr order.
When does Digistore24 pay out Money?
Digistore24 has a payout threshold. You must have earned at least €50 for the money to be transferred to your account. You can choose to schedule monthly, bi-monthly or weekly payments. However, keep in mind that only the first payout on the 07th of a month must be at least €50, the following up to three payouts per month are only possible from €200 each. On the other hand, you can always set higher withdrawal limits.
Amount of Fees Digistore24
Digistore24 is free to use, as an affiliate and as a vendor. You will only incur fees once you have sold something. The cost structure at Digistore24 in the European market is as follows:
For product prices up to €400, there is a 7.9% fee + €1 per transaction.
For product prices over €400, the fees are 4.9% + €1 per transaction. However, the 4.9% only applies to the amount over €400, not to the entire transaction!
What can I Sell on Digistore24?
On Digistore24 you can sell a variety of digital products. The platform focuses mainly on the sale of digital content and online services such as ebooks, online courses, software and webinars. The platform is not suitable for physical products (with a few exceptions such as books and DVDs).
Is there a Digistore24 App?
Yes, there is an official free Digistore24 app available for iOS and Android devices. The app offers affiliates and product sellers a convenient way to manage their accounts and sales on the go. Even though the app doesn't have all the features as the desktop version and is sometimes a bit cumbersome, it is a handy addition to desktop access to the platform.
Alternatives to Digistore24
Although Digistore24 is a popular affiliate marketing platform, there are also other options you can use to make money. Some alternative affiliate networks are for example Amazon PartnerNet, ShareASale or financeAds. Each network has its own advantages and disadvantages, so it's worth exploring different platforms and choosing the one that best suits your needs.
Conclusion: Digistore24 Review & How to make money with it
Digistore24 offers a great way to make money online without startup capital. As an affiliate you can promote products for free and earn commissions for each sale. There is no limit to how much money you earn. With a targeted marketing strategy and building a relevant audience, you can greatly increase your chances of success. At the same time you can earn money on Digistore24 by selling your own products. So Digistore24 is a digital sales platform and affiliate network in one and in my opinion one of the best platforms for affiliates and sellers. So just register, find interesting products and start your journey to make money with affiliate marketing. Good luck with it!
---
The ultimate challenge is to build a passive income. In this article you will learn how to generate different types of passive income.
One way to generate passive income is through capital gains, such as interest and dividends from investments like overnight and term deposits, stocks, ETFs, cryptocurrencies, and P2P loans. Here are my personal top 3 providers for investing to generate passive income stream. Register and benefit from discounts and bonuses:
Top 3 Providers for your Investment
Personally, I use all three providers – for a maximally diversified portfolio consisting of instant-access and fixed-term deposits, stocks, ETFs and crypto as well as P2P.
---