Selling on eBay Kleinanzeigen (Classifieds): Whether you're selling privately or commercially on eBay Kleinanzeigen, there are a few things you should keep in mind to get the most out of your ads.
Below I'll show you more than 13 tips to make your ads more attractive, attract more customers and get better reviews. I'll also show you how to optimize your workflow on eBay Kleinanzeigen (Classifieds) and ultimately generate more revenue.
Meaningful Title
Formulate a title that is as meaningful as possible. The title of the ad, together with the product image, is the figurehead. Therefore, make sure that all important information is concisely summarized in the title.
Honest and Error-Free Product Description
Create orthographically accurate and honest product descriptions. Build trust with potential customers. You can do this by, among other things, avoiding typos in the product description and, above all, describing the product honestly. A product with visible signs of use should also be marked as "used" accordingly. Especially if you sell commercially, such untrue statements can quickly become your undoing.
Detailed and Appealing Product Description
Describe your product in as much detail as possible. In eBay Kleinanzeigen (Classifieds) you can describe your product with up to 4000 characters. Describe the condition of the product, provide technical details, and give advice on shipping and payment methods. This way you clarify many questions in advance and save yourself some paperwork with interested parties. If you are a private seller, a note on the exclusion of any warranty is also useful.
Appealing Product Photos
Take clear product photos that are as appealing as possible. Make sure the photos are well lit and the details are easy to see. Meaningful product photos are the be-all and end-all in e-commerce. This applies equally to eBay Kleinanzeigen (Classifieds).
Multiple Product Photos
Upload images that show your product from different angles. You can upload up to 20 images with a maximum size of 12 MB to eBay Kleinanzeigen. Experience shows that 5 high-quality images are better than 20 blurry ones. How many images you upload is ultimately up to you and depends on the product. Note: Images uploaded to eBay Kleinanzeigen (Classifieds) can be edited -at least in a rudimentary way (there is a rotation and cropping function).
High Quality Products
Sell only high quality goods. This should go without saying, but it can never be said too often. While you as a private seller may still be fine despite "certain defects" of your product, legal warranty claims apply to commercial sales. This means the customer can claim defects and you would have to refund money or send a new product accordingly. If the quality is poor, you will certainly receive bad reviews, so you should be concerned about keeping the quality (of the product and your service) as high as possible.
Good Service
Offer a good service. As a matter of principle, respond to all customer inquiries and do so as quickly as possible. Always appear professional and friendly. This ensures that customers leave you a positive review and rate you as particularly reliable and friendly.
Suitable Product Category
Select the appropriate product category when creating the ad. By choosing the appropriate category, your ad will be found more often and get more views.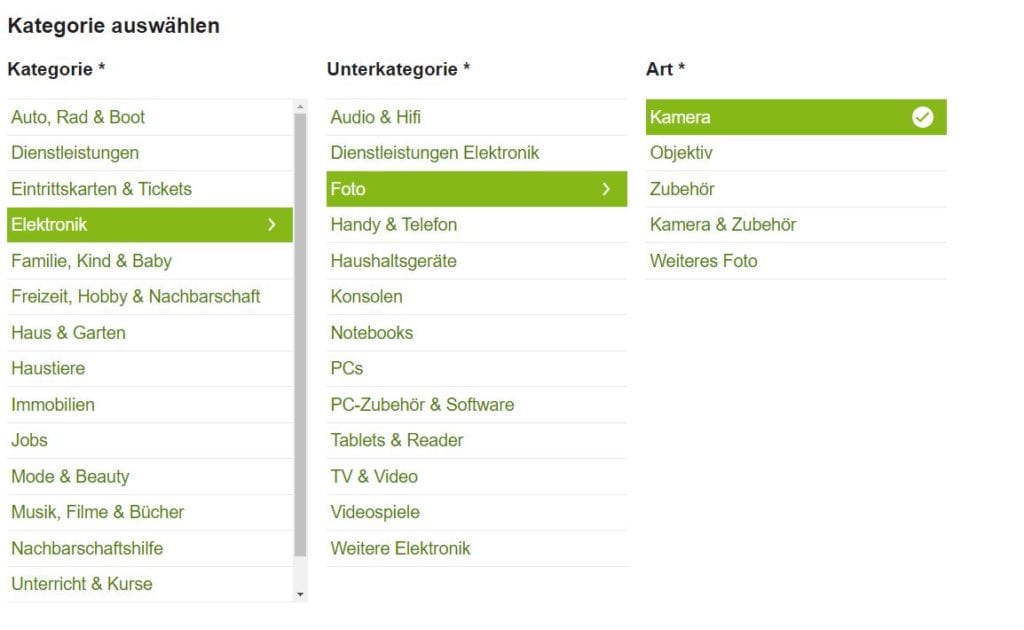 Products Shipment
Specify that shipping is possible. Selling commercially on eBay Kleinanzeigen, makes only limited sense with pickup. I would ship products exclusively. Also specify the shipping method in the item description. In addition, you should ship as soon as possible, after payment. Offer shipping methods with tracking number to increase security. In addition, for reasons of sales psychology, the shipping price should already be included in the sales price.
Text Modules for Customer Inquiries
In order to reduce the paperwork with interested parties to a minimum, create text modules in advance that you can send to the customer via copy and paste in case of questions. For example, if the customer writes that he is interested in the article, you can send him the following template:
"Dear Mr. Mustermann,
Thank you for your interest in product X.
Payment can be made either by PayPal or by bank transfer:
PayPal: muster-mann@mail.de
Bank transfer to:
Bank: Musterbank
Recipient: Max Mustermann
IBAN: DE1234567890
BIC: ABCD123F
.Once the money arrives, I will ship the product and provide the tracking number. If that is ok for you, I would then still need your address.
Best regards,
Max Mustermann''
Do Not Waste Time
Don't waste your time with people who don't want to buy anyway or try to bargain down the price with unrealistic price proposals.
Specify Fixed Prices
Consider up front whether the price quoted is fixed or negotiable (if negotiable, specify VB with the item). If it is non-negotiable, write this on the product page (,,Prices are fixed and non-negotiable") and ignore requests à la ,,last price" if needed. It only stops you in your tracks. For commercial sales, I would offer fixed prices as a matter of principle and only discount in exceptional cases.
Change Sales Location
Unlike eBay, eBay Kleinanzeigen (Classifieds) is a platform that deliberately targets buyers and sellers in the local area. The maximum radius you can set on eBay Classifieds when searching is 200 km. For example, if a customer from Munich is looking for your product and you have set Hamburg as the sales location, the potential buyer will not find your product. Therefore, it may be useful to change the sales location from time to time. In urban areas such as Frankfurt, you will cover significantly more people and thus potential customers than in rural areas, taking into account the 200 km radius. Therefore, you should rather specify major cities as sales locations. Of course, this assumes that you only ship products and do not make them available for pickup.
Pricing
Price plays a crucial role in selling. If it is too high, hardly anyone will buy anything, if it is too low, you will miss out on sales. In order to set the "right" price for a product, you should inform yourself about the product beforehand. By looking at the prices of similar products of the competition, you already get a starting point. If you already sell the product successfully on other platforms, you can adjust the price accordingly.
Do you have any other ideas or suggestions for selling on eBay Kleinanzeigen, feel free to let me know. Comment on this article. I will then add to the list little by little.
If you want to learn more, you can find a detailed guide to selling commercially on eBay Kleinanzeigen (Classifieds) here.
---