Digital Nomad Jobs: Are you tired of going to work every day and working in a fixed location? Do you want to take control of your life and have the freedom to work from anywhere in the world? Then life as a digital nomad is right for you.
In this article, I'll show you the best mobile jobs for Digital Nomads that are suitable for beginners, where to find these jobs and how to become a Digital Nomad in the first place. You'll also learn how and where digital nomads pay taxes and how you can legally save taxes.
What are Digital Nomads?
To become a Digital Nomad, you need to find a job that allows you to work online while logging in from anywhere.
You should therefore learn or improve a skill that you can use as a freelancer or location-independent employee. This can be anything from web development and graphic design to writing and translation. You should focus on a skill that is in demand and where you have a high level of expertise.
Once you've improved your skill, you should build your portfolio and showcase it online for potential clients to see. You can create a website or use platforms like Upwork, Fiverr* or Freelancer.com to search for digital nomad jobs.
Below, I'll show you the best location-independent digital nomad jobs that are also suitable for beginners and career changers.
---
Here you will find an overview of free financial booksthat will help you build an online business and make money on the Internet.
---
The Best Digital Nomad Jobs for Beginners and Career Changers
In the following, I'll show you a few digital nomad jobs that are particularly suitable for beginners and career changers, as they require little or no prior knowledge or expertise.
Online Translator
If you are a bilingual or multilingual person, you can become an online translator. You can register on platforms like Gengo or Translators Cafe to get translation work from clients around the world. You need good language skills and a fast work ethic. As a Digital Nomad, you can do translation work for clients all over the world and thus secure your income.
Social Media Manager
As a social media manager, you'll be responsible for managing the social media presence of companies or individuals. You should be able to create and schedule content, schedule and publish posts, and respond to user interactions. You'll need a working knowledge of various social media platforms as well as creative writing and design skills. However, a previous apprenticeship or degree is not absolutely necessary, so that you can also join effortlessly as a career changer.
Graphic Designer
I myself know graphic designers who live and work as digital nomads. As a graphic designer, you'll be responsible for creating visual content such as logos, graphics, and illustrations. You'll need creative skills and an understanding of design software like Adobe Photoshop or Illustrator. The work can be done online without any problems, completely independent of location.
Web Designer/Developer
Web designers or developers are in demand and are well paid. You can also acquire most of the required knowledge yourself fairly quickly (e. g. via Udemy) and if you are good at what you do, you will always find customers. This is one of the most popular digital nomad jobs because it is very varied and pays relatively well. The bottom line is that all you need is access to a laptop and a good Internet connection.
Content Writer
Content writing is another popular job for digital nomads. If you love writing and know about a certain topic, you can work as a content writer and create articles, blogposts and other types of content for clients. For this, you need good writing skills and an understanding of SEO optimization. Alternatively, you can work as a freelance journalist and write for various publications or start your own blog.
Online Tutor
There are also many digital nomad jobs in education. As an online tutor, you can help students or just inquisitive people from all over the world by teaching them online. There are no limits to your creativity – you can teach anything as long as you are good at it and there is a need. Be it language classes, math classes, a Dropshipping course or courses to achieve financial freedom.
Virtual Assistant
As a virtual assistant, you can also live a location-independent life as a digital nomad. As a Virtual Assistant, you will be responsible for completing administrative tasks for clients remotely, such as answering emails, scheduling appointments, and organizing travel plans. The tasks of a virtual assistant are extremely varied, but in general you don't need a lot of previous experience; communication and organizational skills are most important.
If you want to know how you can make money as a virtual assistant career changer, check it out here.
Where can Digital Nomads find Jobs?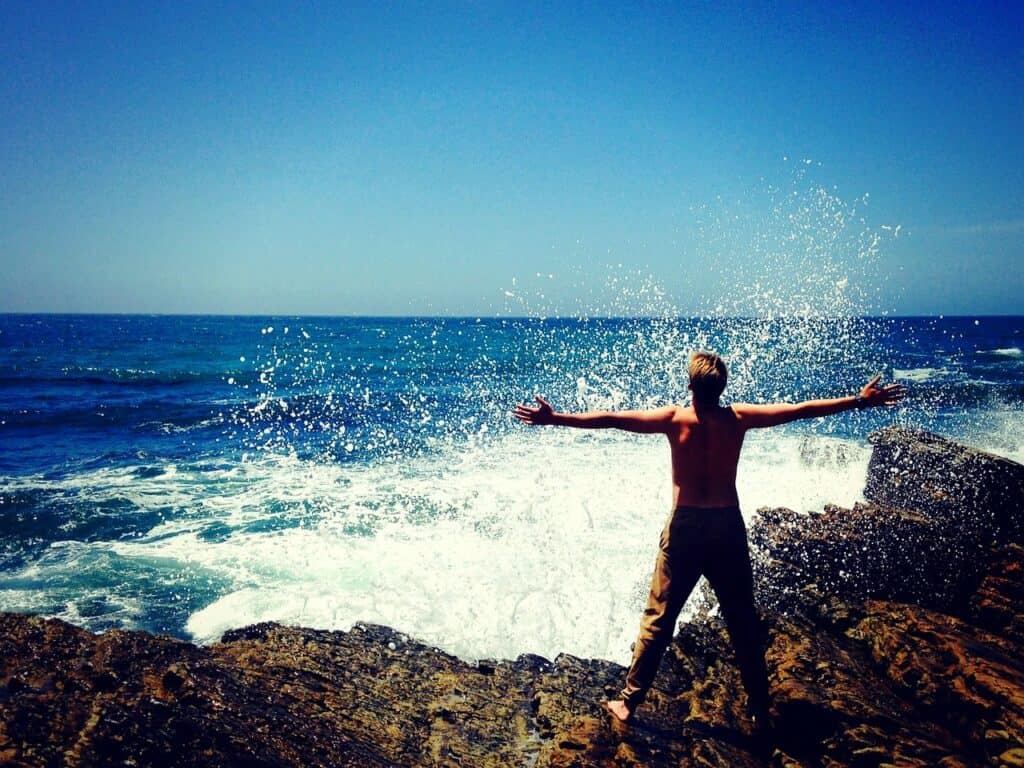 As a Digital Nomad, you have the advantage of being able to work from anywhere as long as you have an internet connection. But where can digital nomads find jobs that fit this lifestyle?
Online Freelancer Platforms
There are many online platforms like Fiverr*, Upwork or PeoplePerHour, where you can offer your services as a freelancer and live the digital nomad lifestyle. These platforms connect you with customers around the world who are looking for different skills that you may offer.
Fiverr currently offers a 10% discount voucher* on your first order:
Job Fairs for Digital Nomads
There are also special job boards for digital nomads like FlexJobs that help you find mobile jobs. These platforms often offer jobs in different industries and with different qualifications, so there is always something for beginners.
Social Media
You can also search for digital nomad jobs on social media by joining groups that focus on digital nomads or remote work. These groups can also help you network and find potential clients or employers.
Personal Contacts
If you already have some experience in your career field, it can also be helpful to use personal contacts to find a job. You can contact former colleagues, clients, or employers and let them know you've gone into business for yourself and are now working as XXX. They may then come back to you.
Where do Digital Nomads pay Taxes?
As a digital nomad, you have the freedom to work from anywhere in the world, but when it comes to taxes, things can get complicated. There is no single set of rules for taxing Digital Nomads, as each state has different tax laws.
The tax liability for Digital Nomads depends on various factors, such as the country in which they are (tax) resident, double taxation treaties, etc. However, most Digital Nomads are tax resident somewhere, even if they travel around a lot during the year, and pay their taxes there accordingly.
However, your tax burden can be significantly reduced if your tax domicile is not Germany but, for example, Cyprus. And it is even possible to legally pay no taxes at all (except for consumption taxes like VAT) by never staying long in a country and taking care of other aspects so that you do not trigger a tax liability anywhere.
The bottom line is that you can save a lot of taxes as a digital nomad – if you handle it correctly – so that you can live well even with a gross income of $1500/month (since gross = net). However, the tax issue is very complex and as a layman it is difficult to keep track of it all. And believe me, you don't want your self-created tax construct to turn out to be illegal in retrospect, and then you have to pay nice back taxes or go straight to jail. For this reason, you should work with people who know exactly what they are doing and can recommend the guaranteed best setup for your business or self-employment. Staatenlos* is one of the first places to go for digital nomads, self-employed etc. with a German passport (but not only for germans) who want to save taxes legally.
Conclusion – Digital Nomads Jobs
Overall, there are many online jobs for beginners and career changers that can be combined with a life as a Digital Nomad and there are also many websites and portals where you can search for Digital Nomad jobs. In addition, there are legal ways to save a lot of taxes as a digital nomad with a constantly changing location.
Still, the lifestyle of a digital nomad is not for everyone. One should be prepared to be constantly on the move and adapt to different working conditions and cultures. It also requires a certain amount of discipline and organization to stay productive while traveling from one place to another.
But if you go for it and are willing to leave old thought patterns behind and welcome the world with open arms, it's probably the most beautiful way to live and work there is.
---
Here you will find an overview of free financial booksthat will help you build an online business and make money on the Internet.
---