Trade Republic: Experiences with the Neo-Broker
Trade Republic Experiences: High inflation and low interest rate policies are driving more and more people away from savings accounts and into much higher-yielding investments such as stocks or ETFs. In addition, neo-brokers have popped up like mushrooms in recent years, significantly lowering the barriers to entry into the stock market. What the neo-brokers have in common is that they offer trading in securities free of charge or at very low prices. The user interface is also very simple: securities are traded via broker apps for smartphones, which in turn appeals to young users in particular. Just under a third of Trade Republic users say they have never invested in the stock market before.
The Neo-Broker Trade Republic is presented below. Before I share my experiences with Trade Republic with you and where the strengths and weaknesses of Trade Republic lie, first some general information about the platform itself.
Trade Republic – An Overview
| | |
| --- | --- |
| Date of Incorporation | 2015 |
| Start Securities Trading | 2019 |
| Seat | Dusseldorf, Germany |
| Employees | 400 |
| Users (as of December 2021) | > 1.000.000 |
| Asset Classes | Shares, ETF, Derivatives, Cryptocurrencies |
| Trading Venue Shares and ETF | LS Exchange (in case of failure: switch to Tradegate), trading at XETRA prices |
| Derivatives Trading Venue | Over-the-counter with issuers HSBC, Citi and Société Générale |
| Trading Place Crypto | Bankhaus Scheich Securities Specialist AG |
| Trading Hours Shares and ETF | Stock exchange daily 7:30 – 23:00 |
| Trading hours derivatives | Stock exchange daily 8:00 – 22:00 |
| Trading hours crypto | Around the clock, 24 h |
| Terminals | Smartphone, Web Application |
| Fees | 1€ per Order |
| Number of tradable shares | > 7000 (2500 as share savings plan) |
| Number of tradable ETFs | > 1500 (all of which can be saved) |
| Number of tradable derivatives | 300.000 |
| Number of tradable cryptocurrencies | 54 (savings plan possible) |
Trade Republic Registration Process
My experience with the registration process at Trade Republic is very good – registration is easy and fast. When you open a deposit account, you must provide your contact information (cell phone number, personal data, etc.) and then verify your identity via Video-Ident. After that, you can directly deposit money to your reference account (arrival in about 1-2 business days) and start trading.
Hint: You can change your contact details (name, mobile number, email) and personal data (address, etc.) in the app at any time via Profile –> Settings. You can also change your PIN, your tax ID and, most importantly, your exemption order.
With which Devices can I use Trade Republic?
Trade Republic was primarily developed for use via app on the smartphone. Since 2021, it has also been possible to trade investments via browser on the PC. However, my experience with the Trade Republic browser version is mixed. The functions of the web version are currently (as of 2023) still incomplete and not a full replacement for use via smartphone.
In the profile of the app, all transactions and events (deposits, purchase, sale dividends, etc.) are listed in time. This overview is currently not available in the web version. If one wants to download receipts and statements, this is not possible via the web version. This must be done via the app, from there you can transfer the documents to the PC and save them or import them into programs like Portfolio Performance. More inconvenient than it should be, Trade Republic will have to do something about that in the future.
Tradable Asset Classes
Trade Republic enables trading of stocks, ETF, derivatives (especially warrants, knock-out products, factor certificates) and cryptocurrency. As of 2023, there are more than 7000 shares, of which about 2500 are with share savings plan and more than 1500 ETF, all of which can be saved. In addition, there are about 300,000 derivatives and 10 cryptocurrencies.
As of 2023, 54 different cryptocurrencies can be purchased, including the following:
Bitcoin (BTC)
Ethereum (ETH)
Ripple (XRP)
Litecoin (LTC)
Stellar (XLM)
Polygon (MATIC)
Chainlink (LINK)
Bitcoin Cash (BCH)
EOS (EOS)
Uniswap (UNI)
The following ETF issuers are offered:
iShares
Xtrackers
Lyxor
WisdomTree
Amundi
Trading Venues and Trading Hours
Shares and ETFs are traded via the electronic trading system LS Exchange operated at the Hamburg Stock Exchange. In exceptional situations (in case of failure of LS Exchange), Tradegate is used. LS Exchange trading hours are from 7:30 a.m. to 11:00 p.m. every trading day.
Trading takes place at XETRA prices, i.e. the spreads (= difference between bid and ask prices) are linked to the XETRA reference market. However, this only applies if the security is also tradable there. In addition, trading hours on XETRA are only from 9:00 a.m. to 5:30 p.m. every trading day. Only in this time window the spread is based on the reference exchange XETRA. Therefore, in order to achieve a lower spread, it may make sense to trade at Trade Republic only during this period.
You can buy derivatives over the counter with the issuers HSBC, Citi and Société Générale between 8:00 and 22:00.
You can buy cryptocurrencies around the clock through Bankhaus Scheich Wertpapierspezialist AG.
Costs and Fees
At Trade Republic, you pay a flat rate of €1 per order as a so-called third-party fee when buying securities. There are no other order commissions. Trade Republic savings plans (stock, ETF or crypto savings plans) are even free of charge. Custody fees and costs for the clearing account also do not apply.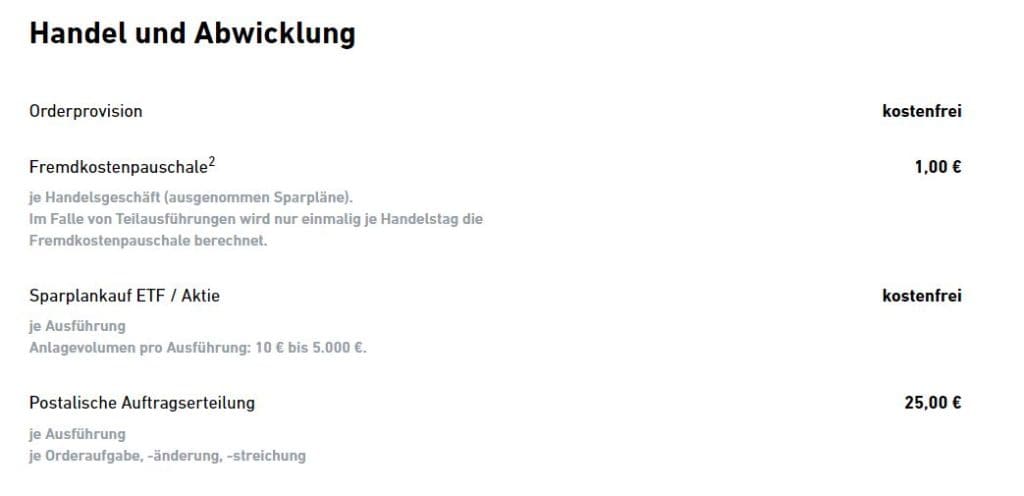 How Safe is my Money with Trade Republic?
Money that you have deposited into your Trade Republic clearing account is held in a Deutsche Bank (until 2022: Solarisbank AG) escrow account, separate from the assets of Trade Republic Bank GmbH. Your cash balance is therefore subject to statutory deposit protection up to €100,000.
Securities fall under special assets. These belong to you and remain in your possession even in the event of Trade Republic's insolvency.
Cryptocurrencies are parked in a cold wallet by BitGo Deutschland GmbH. BitGo Germany is a crypto custodian licensed by BaFin.
Notice:You cannot transfer your cryptos purchased from Trade Republic to your private wallet. The cryptos therefore always remain with Trade Republic or BitGo! You also cannot participate in potential forks or hard forks. I would therefore not buy cryptocurrencies from a broker like Trade Republic, but directly on a crypto exchange and then transfer the coins directly to a ledger.
Advantages and Disadvantages of Trade Republic
Advantages Trade Republic
Very favorable order commission (buy and sell only 1€ each)
Wide selection of stock, ETF and crypto savings plans
Savings plan execution free of charge
Cryptocurrencies tradable
Fast registration and easy handling
Smartphone and web application
Disadvantages Trade Republic
Partly unclear representations
Documents on purchases/sales/dividends etc. have to be downloaded to the smartphone in a time-consuming and separate process and then transferred to the PC.
Web version currently not yet fully developed (receipts and statements cannot be viewed and thus cannot be downloaded directly to PC)
Conclusion Experience Trade Republic
I have been using Trade Republic since 2019 and my experience with Trade Republic has been mostly good so far. Trade Republic is particularly well-suited for beginners in securities trading. The quick registration, coupled with simple handling make it easy for stock market newcomers to find their way around.
The biggest plus of Trade Republic is the very low fees. Only a €1 third-party fee is charged on the purchase and sale of securities. Another positive aspect is the large number of savings plans and the free savings plan execution. In addition, since 2021 there is the possibility to trade cryptocurrencies.
Trade Republic has been designed primarily for mobile use on the smartphone. This means that the stock market is practically always in your pocket, and you can check prices and invest while you're at it. However, this also involves the danger of making decisions based on impulses that one might not have made at one's desk when calm. However, this cannot be attached to Trade Republic itself, everyone should be aware of the corresponding risks and act accordingly.
Personally, I would not engage in "trading" (i.e. short-term trading in securities) on any smartphone – and thus also not in the Trade Republic app – but only make long-term investments. The displays in the smartphone app are sometimes quite confusing. In particular, the transactions listed under "Profile" could be displayed more clearly. Documents relating to transactions such as purchases, sales or dividend payments have to be downloaded to the smartphone in a time-consuming and individual process. This is very time consuming especially for regular trades. A web version has been available since 2021, but not all the functions of the mobile variants are included. Receipts and statements cannot be viewed there and thus cannot be downloaded directly to the PC.
I use Trade Republic myself and, on balance, I can definitely recommend it as an entry-level broker due to its low cost, wide selection of ETF savings plans, and ease of use. Trade Republic is also a good option as a secondary depository for savings plans.
This might also Interest you
Looking for ideas on how to build passive income? Here you will find more than 36 methods to build a passive income.
Financial freedom: what does it mean and how can you achieve it? 10 useful tips and tricks to achieve financial freedom – Read here.
Saving money in everyday life made easy: This post will introduce you more than 222 tips to save money in everyday life. Certainly one of the most comprehensive listings on the Internet.
---
Disclaimer/Disclaimer: The information provided here does not constitute investment advice or a recommendation to buy. These are my generally published opinions and experiences as a private investor. I assume no liability for your investment decisions.
---