Experiences with Weltsparen: Are you looking for information about Weltsparen and would like to know whether it is worth opening a fixed-term deposit or instant access account there? Then you've come to the right place! In this blog article, we will take an in-depth look at the Weltsparen platform and provide you with all the important information, testimonials, instructions, pros and cons so that you can make an informed decision.
What is Weltsparen?
Weltsparen* is a platform of Raisin GmbH, a leading provider of direct banking savings products in Europe. Weltsparen allows customers to open time deposit and overnight deposit accounts with European banks and benefit from high interest rates. In this context, Raisin (in the form of Raisin Bank in Frankfurt am Main) acts as an intermediary, handling the transfer of customer deposits to the foreign banks and the management of these accounts. The advantage of this is that you do not have to open your own account with these banks. You just need to register with Weltsparen, transfer your money and then it can be invested directly with a European bank. In addition to savings products, Weltsparen also offers its own investment products such as ETFs that you can save on.
Is Weltsparen Reputable?
Yes, Weltsparen is a reputable online service operated by Raisin GmbH, a leading provider of direct banking savings products in Europe. The platform has been in operation since 2013 and has since helped thousands of customers invest their money safely and profitably.
Raisin acts as an intermediary and works only with regulated and licensed banks. In addition, all deposits are protected by the legal deposit guarantees of the respective European banks, which means that in case of bank insolvency, the deposits are protected up to a certain amount (usually €100,000). Even if Weltsparen goes bankrupt and you have money directly on the platform, your money is protected by the deposit insurance (because the money is not directly with Weltsparen, but with the Raisin Bank in Frankfurt am Main).
Weltsparen says it pursues high data security and uses advanced security technologies to protect its customers' personal and financial information. In addition, the platform has been awarded the Trustpilot certificate, where it receives an average rating of 4.1/5 stars based on users' Weltsparen experiences.
Overall, my experience with Weltsparen has been good. I classify Weltsparen as a reputable and secure platform operated by an experienced and regulated provider that maintains high standards of data protection and customer security. Nevertheless, you should always carefully inform yourself about the risks and conditions of each savings product before investing your money.
Weltsparen Step by Step Guide
Registration with Weltsparen is generally very simple and straightforward. All you have to do is fill out an online form and then verify your identity. After that, you can already deposit your first money and invest it in savings or investment products.
You need to perform the following steps:
Open a Weltsparen Account:
1. Go to the website of Weltsparen and click there on"Become a customer".
2. Enter your email and personal information, including your name, address, date of birth and contact information.
3. Set a secure password for your account.
4. Read and accept the terms of use and privacy policy.
5. Check and confirm your information.
Verify your Identity:
6. Verify your identity by uploading a valid ID and an invoice with your address.
Transfer Money to your Weltsparen Account:
Log in to your Weltsparen account.
8. deposit money from your checking account to your Weltsparen account using your Weltsparen IBAN.
Choose a Savings Product:
9. Click on"Call money" or "Time deposit", depending on which savings product you want to select.
10. Select the desired savings product, for example, a call money account at a specific bank.
Read the terms and conditions carefully.
Click on "Create now".
Make your First Investment:
13. Specify the Desired Investment Amount. You may need to provide some additional information and confirm legal notices.
Confirm the Attachment.
Go to the TAN entry and confirm the attachment.
Congratulations, you have opened your first savings product at Weltsparen!
Notice: Please note that the exact steps may vary depending on the savings product. It is therefore important to carefully read the terms and conditions of each savings product before investing your money.
Weltsparen Advantages – Experiences
Weltsparen offers you a variety of benefits that are worth mentioning. Here are the most important:
Interest: One of the biggest advantages of Weltsparen is that you can benefit from attractive interest rates. Compared to German or US banks, the European partner banks often offer higher interest rates on your invested money.
Variety: You have the possibility to choose from a wide range of banks and investment products. This gives you the freedom to choose the offer that suits you best and invest your money in the product that suits you best.
Costs: Weltsparen is a free provider and does not charge any fees for registration or account use.
Flexibility: Weltsparen offers you the possibility to withdraw your money from the platform at any time without notice periods (of course, only as long as the money is with Weltsparen -meaning Raisin Bank- and is not permanently invested). In addition, you can also change your investment conditions or cancel your account at any time.
Simplicity: My experience with Weltsparen has been positive, partly because registering with Weltsparen is simple and straightforward. You can sign up from the comfort of your home and don't have to worry about long bank visits or paperwork.
Security: All European partner banks of Weltsparen are protected by the European Deposit Guarantee Fund. This means that your money is protected up to the amount of 100,000 euros in case the bank gets into financial difficulties.
Overview: Through the Weltsparen platform or the Weltsparen app, you have an overview of your investment and the developed return at any time.
Weltsparen Disadvantages – Experiences
Even though my Weltsparen experiences are basically positive, and Weltsparen is a good platform on balance, there are also some disadvantages that you should know before you make an investment. Here are the biggest drawbacks you should be aware of:
Fees: Although Weltsparen itself is free, there may be fees at the banks where you open your accounts. Make sure you find out about all possible fees beforehand to avoid any nasty surprises.
Risks due to regulation, jurisdiction, poor credit rating and currency of the respective country
Which Weltsparen Products are Available?
Various investment products are available at Weltsparen:
Savings products
Instant access account: This is a flexible and daily available investment option with variable interest rates.
Fixed deposit account: This is a long-term investment option with a fixed interest rate for a specified period of time.
Notice money
Investment Products
ETF savings plans: Weltsparen also offers savings for ETF portfolios with which you can track the stock market. With "Raisin Crypto" you also have the opportunity to invest in the crypto sector. In terms of investment products, I could hardly gather any experience with Weltsparen, but I would always use a broker for saving ETFs, such as Trade Republic*, which is particularly favorable with costs of just €1 per purchase or sale. Here is a detailed test and experience report on Trade Republic.
How Much are the World Savings Interest Rates?
According to my experience, the amount of interest at World Savings depends on various factors, such as the type of savings product, the duration of the investment and the interest rate level of the respective country.
In general, the time when you got practically 0% interest on call money is over. As of August 2023, you already earn up to 3% interest per year on overnight deposits. And for fixed-term deposits (1-year term) already 4.0%.
Since at Weltsparen, as a savings product provider, you have a very wide choice of banks from different countries, you can always pick the best offer and make sure that no interest gains slip through your fingers.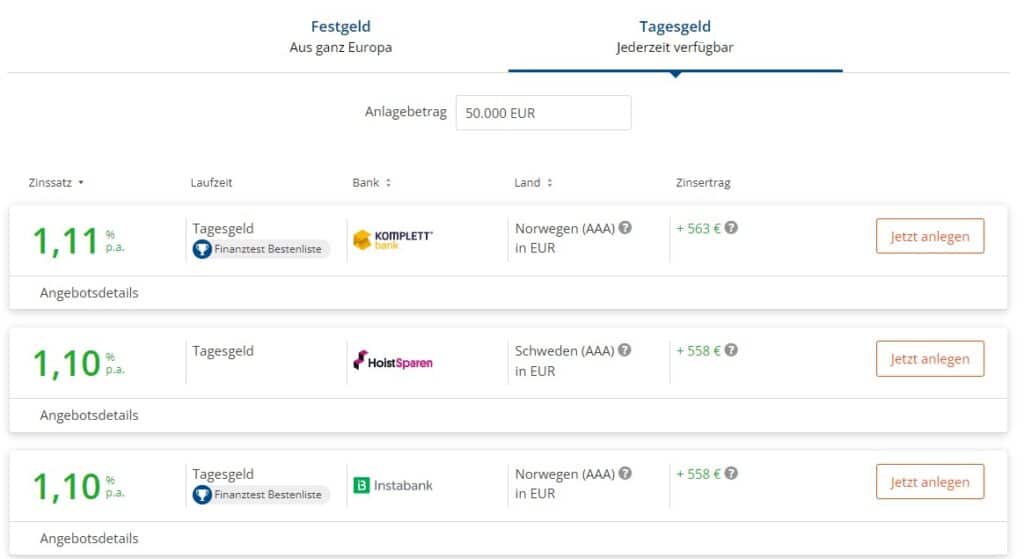 Weltsparen Risks – Experiences
Experiences with Weltsparen shows that risks that may occur when investing money through Weltsparen are the following:
Market Risk: Interest rates and prices may fluctuate due to changes in the financial market.
Currency Risk: When you invest in assets denominated in foreign currencies, currency risk is present because the exchange rate can change.
Default Risk: There is a risk that the bank with which you have invested a fixed-term deposit may no longer be able to make its payments (in this case, however, the deposit guarantee of €100,000 applies).
Government Bankruptcy: A government bankruptcy in a country in which you have invested your money can lead to a total loss of your investment. Therefore, you should only invest in countries that have a high credit rating (AAA).
Is there a Weltparen App?
Yes, there is a Weltsparen app that allows you to manage your investments on the go. The app is free and easy to use and available for iOS and Android devices. My experience with the Weltsparen app has been mostly positive. Even though it doesn't include all the features as the web version, it is a convenient and secure way to manage your assets and stay up to date.

Weltsparen Tax Certificate
Weltsparen offers its investors an annual tax report, which they need for their tax return. This annual overview contains all relevant information on investments with foreign partner banks, including the amount invested, interest and duration of the investment.
You can download the overview with the relevant tax information as a PDF in your Weltsparen account. To do this, proceed as follows:
Click on "My Weltsparen" –> "News" –> there you will find the annual overview of the desired year.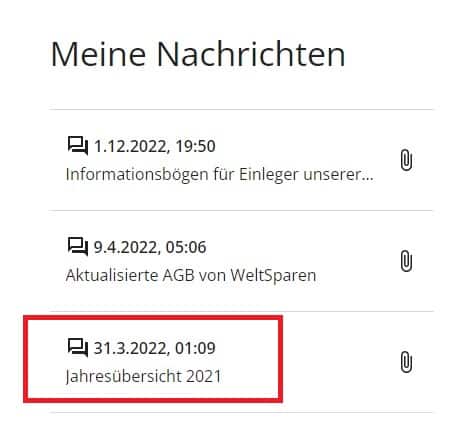 Weltsparen Exemption Order
At Weltsparen, you also have the option of issuing an exemption order. This is an agreement with the tax office whereby the final withholding tax is automatically deducted by the credit institution. This saves you the trouble of calculating and paying the tax yourself every year.
Whether or not you can place an exemption order depends on the facility and the location of the facility. In general, Weltsparen distinguishes between three bank categories for the issuance of exemption orders within the scope of overnight and fixed-term deposits:
Foreign partner banks (no fiduciary investment)
German partner banks (no fiduciary investment)
Domestic and foreign partner banks with fiduciary investment

As you can see from the figure above, you can NOT claim an exemption amount for investments abroad (abroad means outside of Germany in this case). You must declare foreign interest income yourself in your tax return. If, on the other hand, you are with German partner banks, you must submit the exemption order to the "Pro Partnerbank". You can read all this exactly at Weltsparen under: "Do you have any questions" –> "Exemption order" –> "For overnight and fixed-term deposits" –> "Where can I submit an exemption order or non-assessment certificate for investment income?".
You can also find out how your savings investment is taxed and whether an exemption order can be submitted in the product information sheet of the respective bank under the section "Taxation".
Notice: For investment products (such as ETFs, Raisin Crypto etc.) again different rules apply regarding exemption order than for savings products. You can also read about these under "Do you have any questions".
Weltparen & Sparkasse
Weltsparen works closely with the German Sparkasse, which means you benefit from a safe and reputable investment option. This means you have the option to link your Weltsparen account to your Sparkassen account for easy transfer from your Sparkassen account to Weltsparen as well as management of your investments.
However, experience has shown that not all Sparkassen branches allow a transfer to an account with Weltsparen. Therefore, you must first check whether your Sparkasse has entered into a cooperation with Weltsparen or not.
Weltsparen Alternatives
Weltsparen is an online provider of savings products (and subordinate investment products), but there are other interest portals that have similar offerings. Here are some alternatives to Weltsparen that I have also had experience with:
Zinspilot: An online provider of overnight deposit accounts that allows investors to invest their money with various banks in Europe and thus benefit from better interest rates.
Bondora*: A P2P lending platform that allows investors to invest in loans in various European countries. But here there is no deposit insurance! But with the investment product Bondora Go and Grow passive 6.75% return with funds available at any time.
Conclusion Weltsparen – Experiences
Weltsparen is an online provider of savings products that offers investors easy access to fixed and overnight deposit accounts in various countries. It is a good way to diversify your money and benefit from better interest rates offered in other countries.
Bottom line, my Weltsparen experiences are positive, a big advantage of Weltsparen is that it is very easy and convenient to open an account and invest money. It is also a good way to invest your money in different currencies to benefit from possible currency gains.
However, it is important to note that there are also risks involved in investing with Weltsparen. These include, for example, exchange rate fluctuations and the risk that the bank where the money is invested will run into financial difficulties. It is therefore important to carefully examine the offers and interest rates before making an investment decision.
Overall, Weltsparen is a good option for investors to park money in the short term (in overnight deposit account) while earning at least 3% interest. For serious investment, however, there are significantly more attractive financial products and platforms with higher returns, which of course entails correspondingly higher risks.
---
Top 3 Providers for your Investment
Personally, I use all three providers – for a maximally diversified portfolio consisting of instant-access and fixed-term deposits, stocks, ETFs and crypto as well as P2P.
---
---