Selling commercially on eBay: The following is a guide on how to sell on eBay to make money as a professional Seller. From setting up a commercial seller account, to legal details, to pros and cons of the online marketplace. First, an overview of eBay.
Overview of eBay
eBay is an online marketplace where goods of all kinds are offered for sale. You can sell either as a private person or as a businessman. eBay has more than 83 million active users worldwide and more than 516,000 eBay stores. As an auction house, eBay is virtually unrivaled in most regions, while eBay has had to relinquish its status as the No. 1 online marketplace to Amazon in recent years. eBay has a country-specific presence in 38 countries, with some of the country-specific marketplaces differing in terms of fees and functions.
The German eBay marketplace "eBay Deutschland" is financed by a listing fee, which varies depending on the category and the starting price, and by a commission charged to the seller in the event of a successful sale.
As a seller, you choose whether you want to sell privately or commercially when you register your eBay account.
Requirements to sell commercially on eBay
In Germany, for all profit-oriented activities (i.e. as soon as there is an intention to make a profit), a business must first be registered. eBay is no exception to this rule. Before you sell commercially on eBay, you should therefore first take care of a business registration. Once you have successfully completed the business registration process, you will start setting up your commercial eBay seller account.
In principle, you have two ways to get a commercial eBay seller account:
New creation of a commercial account
Conversion of an existing private account into a commercial account
New Creation of a Commercial eBay Account
To create a new commercial eBay account, select "Create commercial eBay account" on the login page. Provide the required information about your company (company name, type of company, etc.). Confirm your registration by clicking on "New registration". Now you have created a commercial account.
Note: Remember to fund your commercial eBay account with a business account instead of using a personal bank account.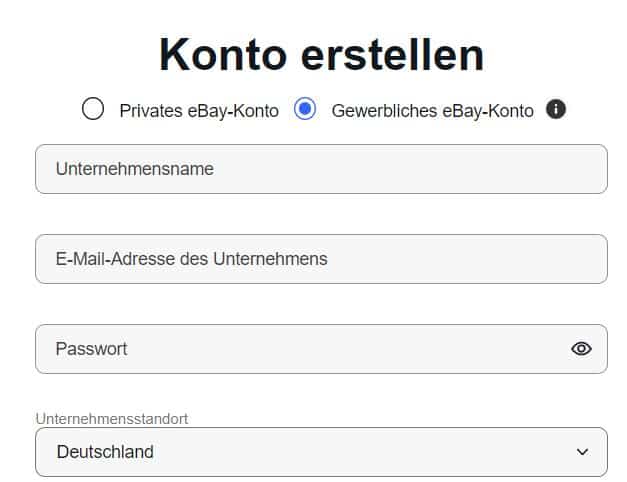 Convert Private eBay Account to Commercial Account
If you already have a private eBay account, you can convert it to a commercial account at any time. To do this, proceed as follows:
Click on "Account settings" and then on "Personal data".
Your eBay account type should be displayed as "Private". To change this, click on "Edit".
Click on "Confirm" and then enter information about your company
The advantage of converting a private account into a commercial one is that you take over the positive reviews of the private account and thus do not start from "zero".
On the other hand, the conversion of a private eBay account into a commercial account cannot be reversed. Thus, think carefully about whether you want to do this. Remember to change your username (to company name or similar) after the conversion has taken place.
How to Sell on eBay to make Money
After you set up your commercial eBay seller account, you can already start selling. Create high-quality offers to encourage customers to buy. This includes high quality photos, meaningful titles and realistic prices.
This article summarizes the best tips for successful selling on eBay.
What Legal Information must be provided when Selling Commercially on eBay?
The commercial sale of products on the net requires certain legal information in order to sell in a legally secure manner. This is no different when selling commercially on eBay. The following legal information is mandatory to appear in your listings or seller profile:
Legal Notice
In Germany, an imprint is mandatory. Under "Seller's legal information" on the product page you must provide your name (for sole traders), address, e-mail and phone number. Your sales tax identification number (USt-IdNr.) is also displayed there.
Sales Tax Identification Number
In order to sell commercially on eBay, since July 2021 you have to have a VAT number, which you have to deposit on eBay. This is mandatory by law. Even as a small business owner you have to apply for a VAT ID and file it with eBay. Previously, the certificate according to § 22f UStG was sufficient, this is no longer the case!
Link to the EU Online Dispute Resolution Platform
You are required to include a link to the EU's online dispute resolution platform. Add the link under "Legal information of the seller".
General Terms and Conditions
As further legal information on eBay, you must specify terms and conditions. In this information about liability, prices, shipping, payment method, etc. are made.
Right of Withdrawal
You must also provide a cancellation policy including a cancellation form.
The cancellation policy is displayed on eBay on the product page under "Return Policy" together with information on return shipping and the cancellation period (usually 30 days).

How much does it Cost to sell Commercially on eBay?
The specific costs depend on various factors such as the number of products, type of products, placement of advertising, etc. and cannot be generalized. In general, to sell commercially on eBay, you will not be able to avoid paying a certain fee. In principle, eBay charges three types of fees
Offer Fee
Sales Commission
Fees for Additional Options
The offer fee is incurred directly when creating an offer, regardless of whether the item is sold or not. The fee is due monthly for as long as the item is posted. There is a monthly fee of 0.35 € per fixed price offer (without eBay Shop).
A sales commission accrues as soon as you have sold an item. The sales commission is composed of a percentage of the total amount (item price plus handling fees and taxes) of the transaction and €0.35 per order. The percentage varies depending on the category and is around 10%.
Fees for additional options generally apply to measures to increase the visibility of your articles. Such as for advertising or adding a subtitle. Depending on the additional option, different fees apply, usually the fees are incurred regardless of whether the item was sold.
Note: If you want to sell royalty-free, you should try eBay Kleinanzeigen (Classifieds).
Best eBay Tools
Zik Analytics is an extremely handy tool that helps you analyze your competition on eBay. You can use it to track the sales figures of other sellers and learn which products are the most successful and optimize your listings accordingly. Zik Analytics automates your processes and helps you successfully scale your business. Without Zik Analytics, your competition will always be one step ahead of you, as such a tool is essential to save time and resources.
Through this link* you can currently try Zik Analytics for only $1 and then get up to 50% off.
Can you place Advertisements on eBay?
Yes, eBay offers its users various ways to advertise in order to increase sales. In the Salesperson Cockpit Pro you can try out different campaign types under "Marketing".
Note: "Ads Standard" are a campaign type where you only pay when an item is actually sold. However, you can use this campaign type only if your service status corresponds to "Above average" or "Top rating" with enough account activity.
Is selling on eBay (still) Worth it?
Whether selling commercially on eBay is still worthwhile in 2023 cannot be answered without further reflection. The proportion of active eBay buyers and sellers is falling, and the volume of trade is low, in contrast to its big rival Amazon. However, selling on eBay can still be worthwhile, whether eBay is used as the main selling platform or a secondary platform. From experience, the type and category of products play a big role, some categories simply do better on eBay than others. If you want to know if it's worth it for you (financially), you have no choice but to give it a try. Use my guide on how to sell on eBay to make money and see if it works out.
Is eBay Dropshipping possible?
Yes, eBay allows selling by dropshipping, that is, direct shipping from the wholesaler to the customer. However, you are responsible for ensuring that the item reaches the customer safely and quickly. Dropshipping from China is therefore already eliminated.
Can eBay be integrated into Shopify?
Yes. Fortunately, you can easily connect your eBay store to Shopify by installing the free eBay app in Shopify and thus synchronizing your eBay assortment with Shopify. The advantage of this is that now sales are displayed bundled in one view (in Shopify). If you want to use different product features in eBay compared to Shopify, that is also possible. For example, you can unsync product prices and thus set separate prices for eBay.
Pros and Cons of Selling Commercially on eBay
Selling (commercially) on eBay brings certain advantages and disadvantages. Listed below are the main pros and cons:
Pros
In the basic rate without advertising inexpensive
Cost-effective and fast start into online business
Self-explanatory
Prebuilt eBay stores
Free Shopify API
Customers "already there"
Cons
Relatively few active users (compared to Amazon)
Some products can hardly be sold via platform
Relatively high sales commissions
Dependence on one platform
Conclusion: How to Sell on eBay to make Money
Starting to sell commercially on eBay in 2023 may still be worthwhile. Especially if you already have your own store (e.g. via Shopify) and only use eBay as an additional sales platform, there is nothing to stop you from trying eBay. Setting up an eBay seller account is done quickly. In turn, posting the products can be quite time-consuming, depending on the volume. All the better that you can import your listings directly into your eBay profile because of the Shopify API.
There is a monthly listing fee for listing products and a sales commission of approximately 10% when products are sold. For further extras (such as additional headline, large images, advertising, etc.) there are additional fees, it makes sense to use the Ads Standard campaign, where costs are incurred only after an item is sold.
---