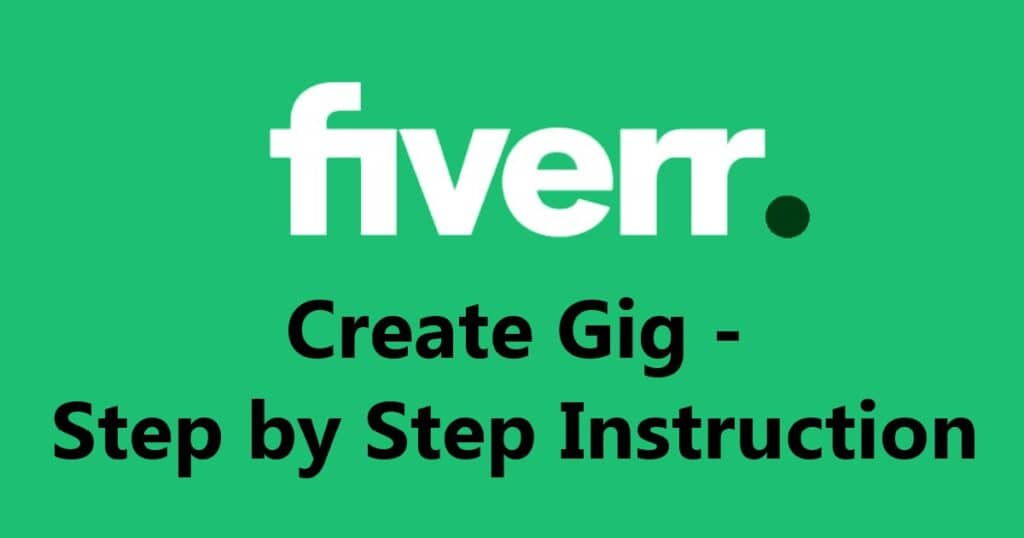 In this guide you will learn what you can do to become a successful seller on Fiverr as a beginner. The focus is on the creation of a "Gig" (this means the offer in which you provide your service). How should a "perfect" gig be structured, what should you pay attention to and what should you avoid?
In addition to the guide to creating a successful gig, you'll get other useful tips to push your sales and take off as a seller on Fiverr. Are you still at the very beginning and do you want to know in general what Fiverr is, what are the advantages and disadvantages of the platform and if or how you can earn money with it in general? If yes, then it makes sense to first read this article: "Make Money on Fiverr – A Guide" and after that read about how to successfully create a gig.
---
Fiverr currently offers a 10% discount voucher* on your first order. Be quick and register NOW!
---
How to become successful on Fiverr as a Beginner
To successfully make money on Fiverr it comes down to two main things:
Firstly, you should be really good at the service you provide, deliver top quality and always appear reliable and reputable. This should be natural and is the prerequisite for remaining successful in the long term. As soon as you receive mainly bad reviews, your Fiverr career will quickly be over.
Secondly: As a new seller on Fiverr, it is of little use to you in the beginning that you are an expert in your field or that you offer the best price-performance ratio. Hardly anyone will notice you at the beginning, because as a "New Seller" you have not yet received any orders and therefore no ratings. The trust in you and your service is zero. There are enough scammers and sellers who don't take quality too seriously and why should anyone hire a suspicious newcomer from among all others?
For this reason, you should promote your services both on Fiverr (in the form of an appealing gig, etc.) and outside of Fiverr (through marketing, etc.) in such a way that customers become aware of you. This is how you lay the foundation for long-term success.
First, I'll show you how to create a gig on Fiverr.
Increase your Visibility with a Good Gig
You need to attract buyers to you in some way and convince them of your worth, even if you don't have any reviews yet. The best way to do this within Fiverr is to advertise your service in an appealing offer. These offers are called "Gig" on Fiverr.
So your goal should be to make your gig as appealing as possible. I'll show you step-by-step how to go about gig creation and what to look for to create a meaningful and successful Fiverr gig.
Create Fiverr Gig Successfully – Step by Step
After you have registered* on Fiverr and set up your profile, you then create your first gig. Click on "Gigs" and then on "Create A New Gig".
Now you fill your gig with information step by step. From 'Overview' to 'Publishing'.
Overview
In the first step you enter general information about your gig. These include:
Gig Title
Create an attention-grabbing title. Keep in mind that EVERY gig on Fiverr automatically starts with "I will…". So, for example, if you want to create a gig to translate English texts into German, your gig title could look like this: I will… ,,manually translate every document from english to german". The title should be in English and between 15 and 80 characters.
Category
Choose an appropriate category and subcategory for your gig. Assigning the gig to the appropriate category makes it easier to find your gig.
Gig Metadata
Here you enter more detailed information about the gig. Depending on the chosen category you have to specify different things. In the case of translation work, you must indicate here the language you are translating from or into, the documents you are translating, and whether you have any experience in professional translation of texts.
Search terms
Add up to five keywords that describe your gig and help buyers find your gig.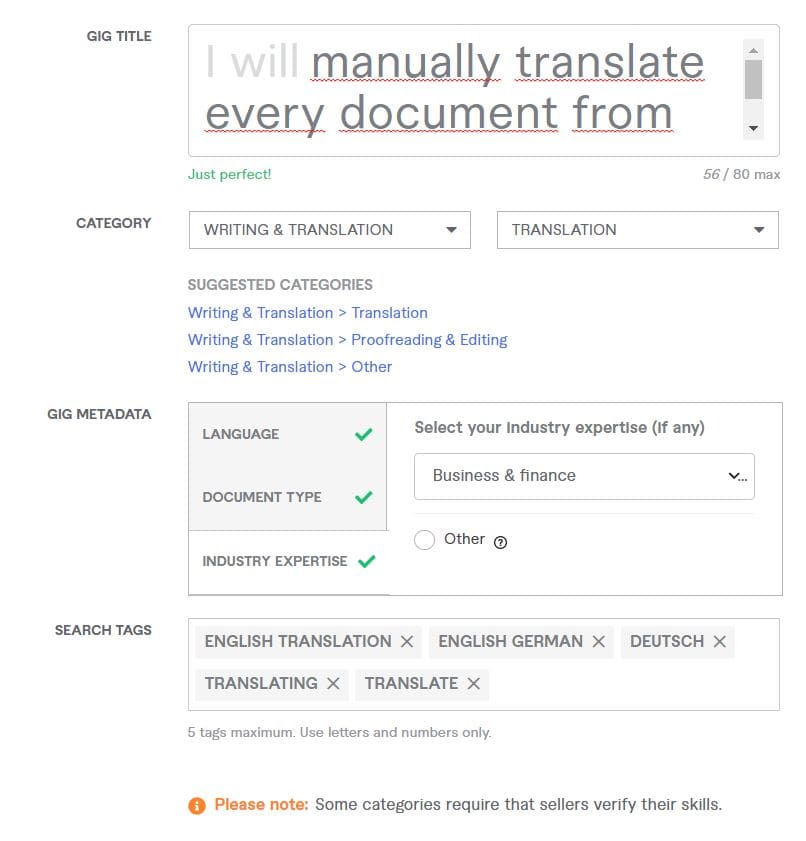 Pricing
In the second step you set your prices. Fiverr offers you the possibility to divide your gig into three different packages. Depending on the package you set the prices and scope of work. There is a Basic, a Standard and a Premium package. Set a name, description and prices for each package, as well as delivery time and number of revisions. You can also add other services, such as extra fast delivery, etc. In general, you should make your pricing and description as comprehensive as possible to meet the needs of your customers.
Description and FAQ
Summarize the most important information about your gig in a description. Describe as precisely as possible how the gig works. Also add Frequently Asked Questions.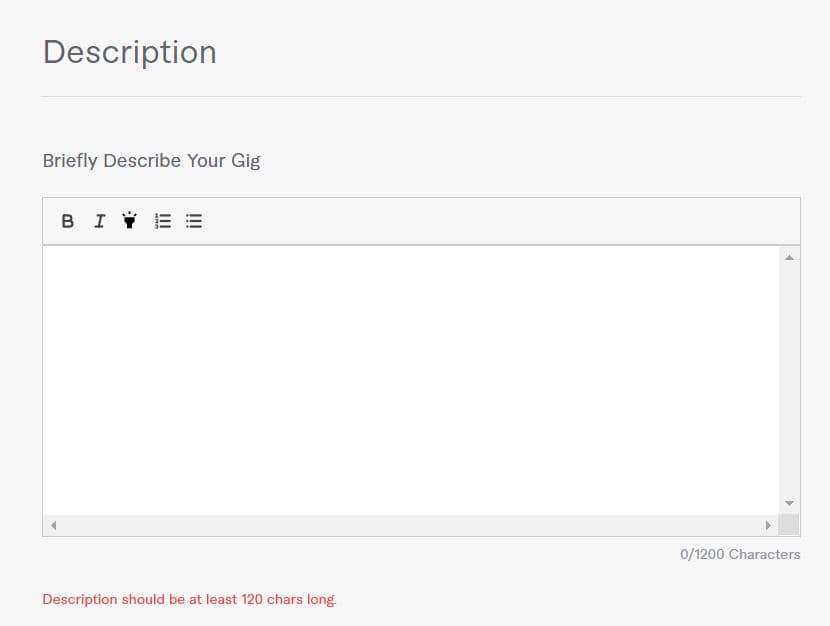 Required Documents
In this text box, specify what you need from your buyers before you can start working. In the case of translation work, for example, this can be the file to be translated as a PDF or Word file.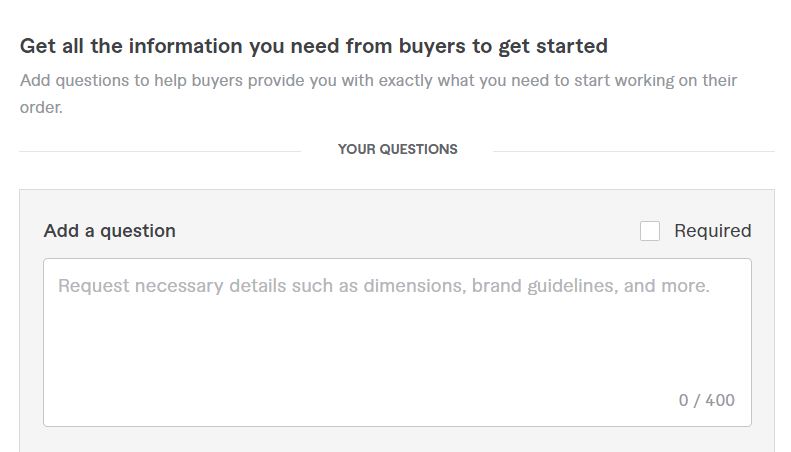 Gig Image
Add gig images to make your gig stand out visually. Use sharp and clear images. Fiverr recommends images with the dimensions 1280 x 769 pixels. You can upload up to three images. You should take advantage of this feature as well. Only use images that you own the rights to.
In addition to gig pictures, you can also upload a video. In addition, documents proving previous good works.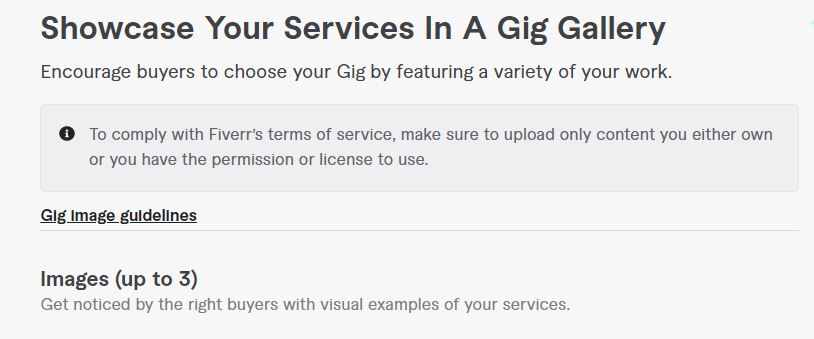 Publish your Gig
Already done! Click on "Publish Gig" to make your gig available to the public.
More Tips to Get Started as a Seller on Fiverr
Optimize your Fiverr Profile
Besides creating a compelling Fiverr gig, you should additionally make your Fiverr profile as detailed and appealing as possible. Describe who you are, what your experiences are and what makes you stand out (the description should be in English). Indicate your language skills and other qualifications and certificates. Everything that proves your expertise and makes you stand out from the crowd. To benefit from the reach of other networks, you can also connect your Fiverr profile to other platforms like Facebook or Twitter.
In addition to the profile description, the profile name should also be chosen to match the services you intend to offer. If you want to offer several services from completely different areas, a generic name is also fine. Avoid numbers or special characters so your name doesn't sound too spammy.
As a customer, I would like to know at least approximately who I am commissioning. Therefore, be sure to include a profile picture. And not a fantasy picture, but an actual picture of you that gives a halfway serious impression and on which your face is clearly recognizable. Job application photos are suitable for this purpose.
Select a Market Niche
Choose a niche based on your skills. Optimally, you'll bring some sort of expert knowledge to the table (programming, design, etc.), which will cut out much of the competition and maximize earning potential. Gigs that advertise formatting documents or doing anything for $5 unfortunately don't work (anymore).
Quality and Punctuality Above All
Process your orders carefully, pay attention to the highest quality and always meet your deadlines. In the beginning, even one negative review can have a big impact on your Fiverr profile by interrupting your progress to higher levels.
The customer is King
Process orders exactly as requested by the customer. Even better is when you exceed your customer's expectations by doing even more than what's in the gig. This way you can make sure you get a positive review and the customer will buy from you again.
Create an outstanding Fiverr Gig
Use attention-grabbing gig photos, create a compelling gig title and an appropriate gig description.
Offer Competitive Prices
As a beginner on Fiverr, you need to sell yourself short at first to get positive reviews and push your visibility. Later you can increase the prices again.
Communication
Of course, always communicate politely and courteously with all your customers. Respond to customer inquiries and always do so as quickly as possible. Also, the response rate has an impact on whether you move up in the seller level or not.
Do not create false Expectations
If you can't handle an order (either because it's not timely or you're not qualified to do so), communicate that openly and honestly with the customer so they can find another seller. This is still better than taking the gig only to deliver poor quality. The customer will not accept this and bad reviews are pre-programmed.
Do not Overreach
To become successful on Fiverr, you need a long breath. So it's all the nicer when orders finally start coming in on a regular basis. However, there is a danger of thinking that you now have to accept every order, otherwise you will miss something and lose money. Make sure that work doesn't get out of hand and that you still give yourself breaks. Otherwise, the quality of your work and thus customer satisfaction will suffer in the long run.
Activate Vacation Mode
If you can't process orders on Fiverr for a longer period of time, e.g. because you are on vacation, remember to activate the vacation mode (under Profile –> "Set Availability"). Otherwise, you'll get complaints and bad reviews from customers who booked with you but didn't get a response, let alone an elaboration.
Create multiple Gigs
You can create multiple gigs with one Fiverr account. The maximum possible number depends on your seller level. As a New Seller, you can create up to 7 gigs, which is usually enough to get you started. Use this option by creating multiple gigs. This way you also get a feeling for which services resonate and which don't.
Complete Fiverr Courses
In your Fiverr profile you can do different Fiverr tests (e.g. English language test). If you have passed a test, the award will be visible to customers on your profile. This way you prove that you are an expert in this field and get more customer inquiries.
Marketing: How can I Promote my Gig outside of Fiverr?
To increase the reach of your gigs, you should proactively promote your gig by posting it on platforms like Facebook or Twitter.
Likewise, you can present the gig on career networks like LinkedIn or Xing. This way you increase the visibility of your gig outside the Fiverr universe, customers click your Fiverr link, so you can expect more purchases. By branding yourself as an expert in your field through sites like LinkedIn, you may get jobs outside of Fiverr. This is welcome, as it is always better not to be dependent on just one platform for your revenue.
Conclusion: How to Create a Fiverr Gig?
If you take all these tips to heart and really step on the gas, especially in the beginning, you will get your first customers over time, gradually rise in the seller level and thus be able to charge more and more money per order.
A meaningful gig and an authentic Fiverr profile, coupled with a reputable external presentation on other external platforms are the basics to become successful on Fiverr. Always pay attention to quality, reliability, punctuality and friendliness to customers.
Experiences of many Fiverr sellers show that it gets easier from seller level 1 or level 2, because your gig is promoted more often by Fiverr with increasingly higher level and customers buy more often. If you do it right, Fiverr can be a nice additional source of income from the beginning and with higher level (from level 2) eventually become your main source of income.
---