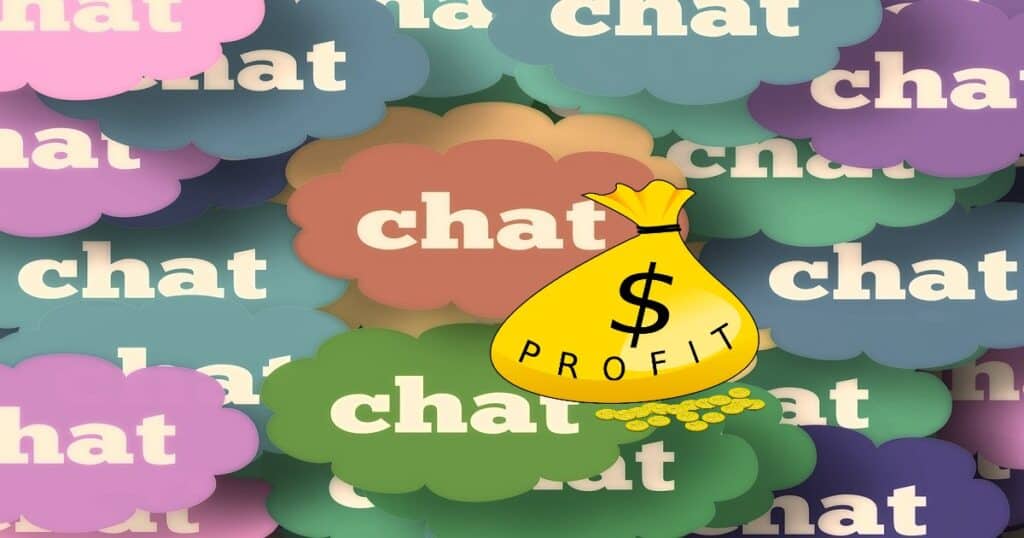 If you are looking for an easy way to earn money online without any startup capital, then working as a chat moderator is an interesting option. This gives you the opportunity to work flexibly from home and engage with different topics and people. In this article, you will learn what you need to consider in order to successfully work as a chat moderator from home and get paid to chat.
What is a Chat Moderator?
In the original sense, a chat moderator is a person who is responsible for moderating conversations in a chat room or on a platform. If you get such a job, it is important that you pay attention to the observance of rules and the tone among the participants. A chat moderator must ensure that the chat room is safe and respectful.
However, most home office chat moderator jobs found on the web involve writing with only one person at a time in a private chat. You can see yourself as a customer service representative who entertains the customer with dialogs. What kind of dialogs you have depends on the platform. In principle, anything is possible. From nice exchanges about God and the world to 18+ dialogues. Be clear in advance what kind of exchanges you want to do and what you definitely don't want to do. The good thing about working as a chat moderator is that you appear completely anonymously, with no webcam and no audio. And if a customer behaves inappropriately, you can simply end the chat and report it to the platform.
What do you have to Consider in General if you want to Work as a Chat Moderator?
In principle, anyone who can speak english can work as a chat moderator and get paid to chat (logically that fits for English-speaking platforms, but also works on german platform or other languages…). Most platforms don't have a lot of requirements, you don't need a specific education or anything like that.
The only thing you need is the appropriate technical equipment, such as a computer or laptop (a smartphone may also suffice) with a reliable Internet connection, as well as personal requirements such as communication skills, patience and assertiveness.
To be successful as a chat moderator, you should also follow these tips and tricks:
Improve your communication skills to effectively communicate with participants.
Conduct yourself in a professional and respectful manner toward participants.
Learn how to handle difficult customers and situations.
Plan your time and organize your work to be efficient.
Instructions to become a Chat Moderator
If you want to work as a chat moderator, there are various platforms and agencies that are looking for chat moderators, where you can get paid to chat. Application procedures and requirements can vary by provider, so it's important to do your research well in advance.
It is usually necessary to go through an application process and complete training or an orientation followed by a test to be a chat moderator. However, these trainings are usually quite simple and quickly done.
How to Recognize Serious Chat Moderator Jobs
There are various platforms and companies that are looking for chat moderators. Some well-known platforms are for example:
Even big companies like Amazon or eBay look for freelance chat moderators for their customer service from time to time.
!!!Beware of dubious providers!!!
Features of Dubious Providers
While there are companies looking for salaried chat moderators, most companies are looking for self-employed moderators. As such, you must of course register your Self-Employment in advance.
If an agency is looking for self-employed chat moderators and says in the offer that you do not need a tissue certificate for this, this is very likely a scam or at least very unserious. Payment must also be clearly regulated and you must receive receipts (credit notes) of your income for accounting purposes.
If a platform requires you to first transfer money to the platform in order to be accepted there, it is 100% fake – you wouldn't pay money to your current employer to be allowed to work for them either! On a reputable chat platform, all training, courses and other assistance for aspiring chat moderators is free of charge!
Before you sign up with any chat moderator platform, you should first search the Internet for testimonials from other moderators. Then you will quickly realize which company is reputable and which is not.
Own Chat Moderator Experience
Until a year ago, I worked as a part-time chat moderator myself. Here are the Pros and Cons I noticed:
Advantages Chat Moderator
Largely flexible working hours
Work independent of location
Nice extra income
Disadvantages Chat Moderator
Working hours partly on weekends and late evenings
Payment rather mediocre
How Much do I Earn as a Chat Moderator?
Earnings as a chat moderator vary depending on the platform and company. Rarely you get paid by the hour, mostly you get paid to chat per message received from the customer (so called INs = IN(coming) Chats). The payment can vary between $0.05 and $0.50 per IN. Since you are usually paid only per message received from the customer and not per message written to the customer (so called OUTs = OUT(coming) chats), that's why your income depends very much on how much your customers write with you. If your customers don't answer, you don't get paid, even if you have been writing messages for 1 hour.
For this reason, you should work on your writing skills to encourage as many customers as possible to reply to you. Once you've done that and maybe even have a steady customer base that interacts with you on a regular basis, you can definitely make a full-time living from your chat moderator salary.
In addition, the amount you get paid to chat may depend on whether you are willing to work weekends or nights. In some cases – but definitely not on every platform – you will receive corresponding bonuses. For starters, it's realistic that you'll earn a nice extra income doing this. With some effort, $500/month is achievable at the beginning with appropriate effort. If you decide to do the job full time, then it can be up to $3000/month.
How do I Receive my Payouts?
You get your chat moderator salary in different ways depending on the agency you work for. Normally, you deposit your (commercial) bank account or PayPal account, to which your payouts will be transferred in a certain, fixed cycle. Depending on the platform, you can receive monthly or weekly payouts. From platforms that pay out neither weekly nor monthly -but every 3 months or semi-annually- I would keep my hands off, as they are very likely to be scammers who will never pay you off.
Special Form Flirt Chat Moderator
A special form of the chat moderator is the flirt chat moderator. Here you'll be responsible for exchanging flirt messages with animated clients and stimulating their imagination. Realistically, most chat agencies offer this type of work, as it is the most profitable in the end. So, in such a chat moderator job you must not have any inhibitions to receive or write partly explicit messages and create illusions for your clients that will never come true.
Chat Moderator and Taxes
Whether and how much tax you have to pay as a chat moderator depends entirely upon your type of employment. In other words, whether you are employed or work as a mini-jobber, or whether you are self-employed. From experience, most websites are looking for chat moderators who work on a self-employed basis. This means that you must register a business for this activity and pay taxes accordingly. Talk to your tax advisor about this.
Conclusion Become a Chat Moderator – Is it Worth it?
Working as a chat moderator can be a great way to earn money on the Internet for the first time and work independently of location. There are no or very few requirements, you don't need anything else except a laptop and a good internet connection. On most platforms, you can sign up quickly and only have to pass a short training session followed by a test. After that, you are already ready to get paid to chat online as a chat moderator. As an entry for people without specific knowledge or without start-up capital, this activity is well suited. Chat moderator work is also suitable as a side income to earn an extra $500 a month.
However, the hourly earnings are usually relatively low, $2500 – $3000 per month you can usually only reach if you are there for a long time and know exactly what you need to write to your customers to encourage them to respond to you.
Just give it a try and sign up for a platform!
Alternatively, there are many other ways to make money online. On my blog you will find many different options, which I will present to you extensively.
The following options are available:
---
Top 3 Providers for your Investment
Personally, I use all three providers – for a maximally diversified portfolio consisting of instant-access and fixed-term deposits, stocks, ETFs and crypto as well as P2P.