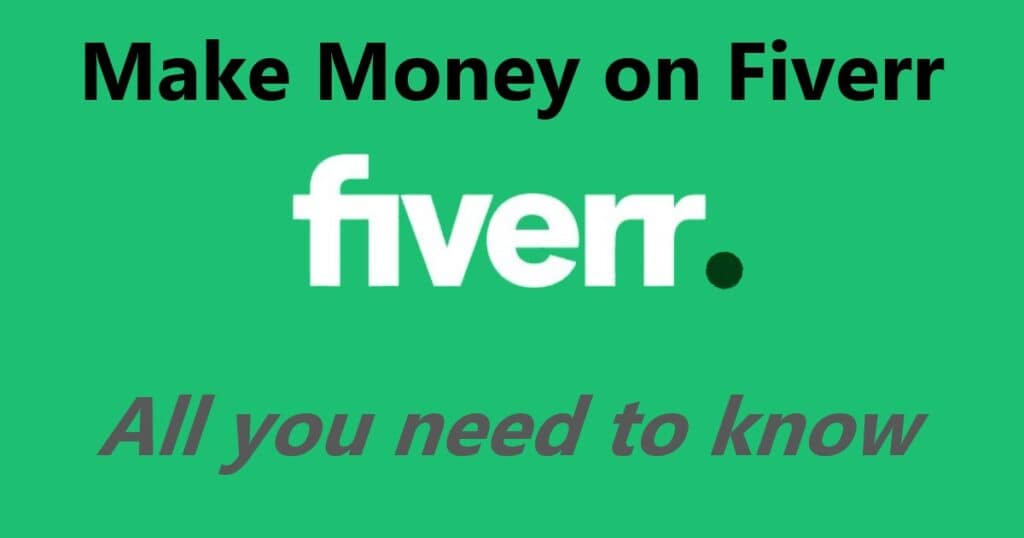 ---
Fiverr currently offers a 10% discount voucher* on your first order. Be quick and register NOW!
---
Make money on Fiverr: In this detailed step-by-step guide, I show you how to set up a Fiverr seller account – from signing up, to gig creation, to getting your first order. You will learn how you can earn money as a freelancer on the platform regardless of location, how reputable the platform is, what the advantages and disadvantages are, for whom Fiverr is suitable and much more.
But first of all, what is Fiverr anyway?
What is Fiverr?
Founded in 2010, Fiverr is an online marketplace for digital services based in Tel Aviv, Israel. Freelancers can create offers there in which they provide their digital services (so-called gigs), which in turn can be contracted by buyers. This creates a win-win situation. Freelancers have a large marketplace with plenty of customer traffic at their disposal; customers do not have to be acquired laboriously by themselves. On the other hand, Fiverr offers potential buyers a wide range of services, suitable contractors do not have to be researched in a cumbersome way. Through Fiverr's internal rating system, the description of the service and other information, customers can see at a glance whether the freelancer or the service offered by him fits the requirement profile of the buyer or not. Fiverr is available as a web version as well as iOS and Android app.
This is primarily about making money on Fiverr, in other words, how to set up and use Fiverr as a freelancer.
Fiverr Seller Account Setup – Step by Step Guide
In this step by step guide you will learn how to set up Fiverr and make money with it. From the creation of your gig to the payment of money.
Registration on Fiverr
The first step is to register on Fiverr. To do this, enter an email address, choose a username and set a password. Activate your account by clicking on the confirmation link in the email you receive. Now you are registered on Fiverr and you can buy services as a customer. However, to be able to offer gigs as a seller, you still need to sign up for it.
Sign up as a Freelancer on Fiverr
To sign up as a freelancer on Fiverr, click on the round profile button at the top right (in the web version) and then click on "Become a seller". Click "Register now" and then click "Continue" several times.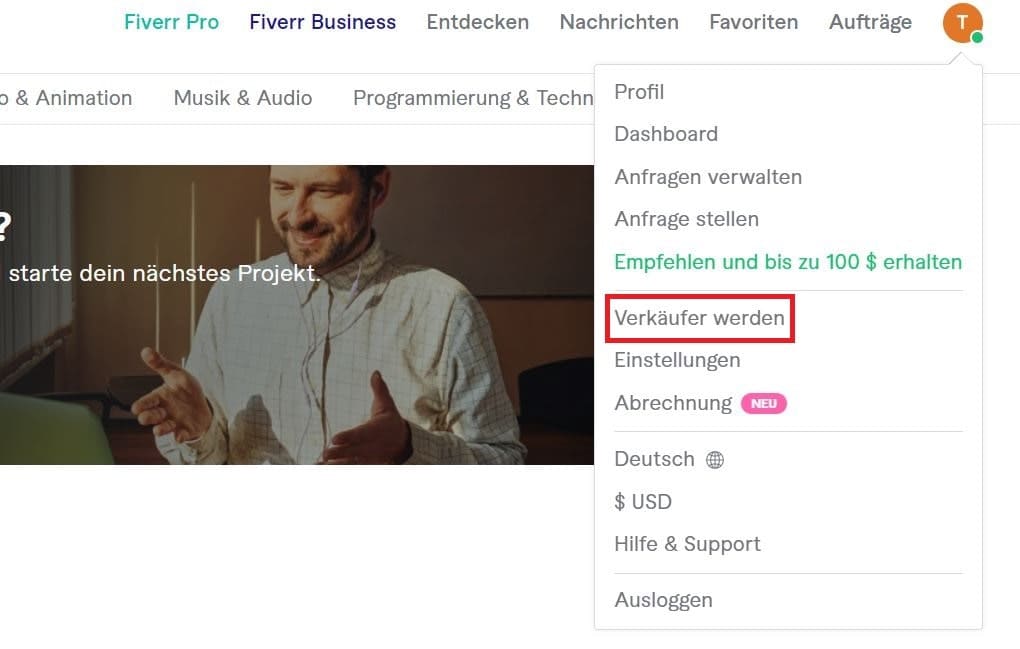 Fiverr will then ask you for your personal information such as name, language, profile picture, description (tell a little about yourself) etc. Fill in everything truthfully. Click on "Continue".
Under "Professional Info" you specify your field of activity and skills. You can deposit certificates and link your web presence (if you have one) to increase your trust level. Click on "Continue".
Under "Linked Accounts" you can store your social web presences (Google, Facebook etc.).
Finally, you'll need to verify your email and phone number and then you're ready to post your first gig on Fiverr and start making money.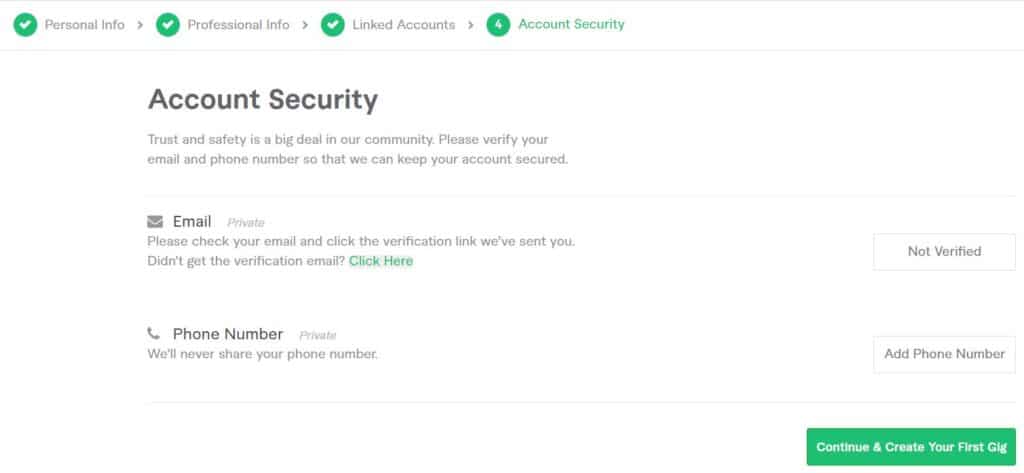 Create a Gig
After you sign up as a seller on Fiverr, you can switch between the buyer and seller views at any time. Click "Go to seller view" to switch to seller mode and create a gig.
Click on the round profile button and then on "Create a New Gig". Set a meaningful title for your gig, assign an appropriate category, set prices and upload a gig photo. Gig creation is essential for customer acquisition (besides the description of your Fiverr profile). A well done gig, can attract customers, but a bad one can also deter them. Therefore, especially in the beginning – if you don't have any trustworthy reviews yet – attach great importance to a meaningful gig description, reasonable prices and an eye-catching, reputable gig photo. How to create a successful gig on Fiverr and what to consider is described in detail in this post.
The first Order
If your performance/gig is convincing, the first order should come at some point. In principle, there are two ways customers can book your gig:
Either the customer books your gig directly by "direct order" or he books the gig by "custom order". With a direct order, the client books the gig directly without contacting you first, accepting your terms and prices set for the gig. With a custom order, on the other hand, the customer first writes to you and explains his request in more detail. On this basis (depending on how complex the project is, etc.) you make the customer an offer (a custom offer), which the customer then either accepts or not.
Difference between Direct Order and Custom Order
In a direct order, the buyer accepts your price terms, etc. directly. This has the advantage that you do not have to write to the buyer in advance. So it's apparently more time efficient. On the other hand, custom orders offer you the possibility to adjust your asking price exactly to the wishes and demands of your customer or the complexity of the order. You can create much more targeted offers and know from the outset what the customer actually wants. This can even save you time afterwards, as it prevents misunderstandings.
Personally, as a seller on Fiverr, I clearly prefer custom orders. Many gigs simply also require prior coordination with the client in order to provide a realistic quote. Therefore, depending on the gig, it is recommended to indicate at the top of the gig description that prior arrangement is desired.
Complete Order
Once you have finished working on the order, click on "Deliver". Paste the result file (PDF, Word, etc.) into the attachment and upload the order. Under "Orders" you get an overview of all your orders. If the buyer has no objections to the order, the order is automatically closed after three days. After another 2 weeks you can withdraw the money from your Fiverr account to your own bank account.
Withdraw Money
Under "Earnings" you have an overview of your total earnings. You can withdraw your money via PayPal, Bank Transfer or Fiverr Revenue Card. With the latter, you can withdraw money in dollars only and you must withdraw at least $30. I personally find PayPal withdrawal the easiest.
In the order list you can see which funds are still outstanding and which can be withdrawn.
Note: After an order is closed, it usually takes another 2 weeks before you can withdraw the money. In the order overview you can see the status of your orders.
Also note: You will receive revenue on Fiverr in US dollars. If you want to withdraw money and convert it to EURO, you will have to pay a conversion fee.
Fiverr Analytics
Under "Analytics" you get an overview of your Fiverr sales, average sales prices, customer ratings, country distribution and more.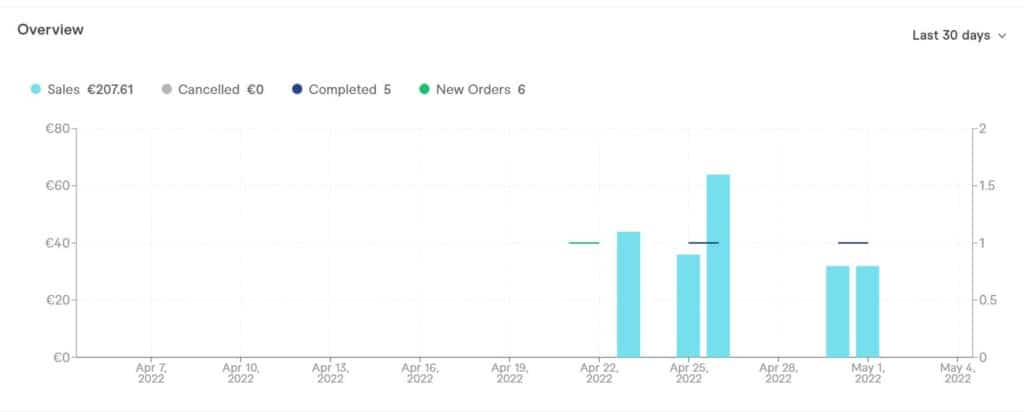 How to Increase your Seller Level?
As a seller, Fiverr assigns you to one of four (five) seller levels. Ascending there are the following levels:
New seller
Level 1
Level 2
Top Rated Seller
Fiverr Pro
After registering on Fiverr, you are initially a "New Seller". With time and a corresponding number of orders and positive reviews, you can rise in rank and thus make more money on Fiverr.
For example, to get to level 1, you need to meet the following requirements:
Be an active seller for at least 60 days
Complete at least 10 orders (in total)
Earn $400 or more
Maintain a 4.7-star rating for 60 days
Achieve a 90% response rate over 60 days
Ensures an order fulfillment rate of 90% over 60 days
Achieve 90% on-time delivery over 60 days
Do not receive warnings for 30 days
Fiverr checks once a month if you qualify for promotion to a higher level. Advancing to a higher level comes with some privileges, increases your traffic and ultimately helps you get more orders. Therefore, your goal from the very beginning should be to move up in the level as quickly as possible, and you can only do that with hard work and consistently good quality.
Note: Once you've become a top-rated seller, it doesn't mean you can rest on your laurels. If you cannot meet the high quality standards required by Fiverr over a longer period of time (e.g. if you mainly receive bad ratings or deliver late too often), you can also be downgraded in the ranking!

What is Fiverr Pro?
While you will reach the top-rated level automatically with enough orders and high quality, Fiverr Pro is a whole lot more exclusive. To become a "Pro" on Fiverr, you must send Fiverr an application including a portfolio of previous work. Only 1% of all applicants are accepted into the Pro program. However, if you do, it's a sign that you meet Fiverr's highest standards of quality and service. Accordingly, you will be able to count on significantly more orders and buyers will be willing to pay higher prices for your proven expertise.
Is Fiverr reputable/safe?
Fiverr itself makes a serious impression. The company has been around since 2010. Both as a buyer and seller, I have not had any bad experiences so far. If you as a seller have received an order, the money is first transferred to Fiverr for temporary safekeeping. As soon as you have delivered the order and the customer has accepted it, or three days have passed after the submission without the buyer finding anything wrong with it, the money will be transferred to your Fiverr account. You can then withdraw the money after a hold period of usually 2 weeks via PayPal, wire transfer, etc. to your own bank account (for pro sellers, top rated sellers, etc. the release takes only 7 days). So far, my payouts have always arrived on time and were transferred to my own account without any problems.
What are Advantages of Fiverr?
Fiverr offers service providers a comprehensive marketplace with many millions of potential customers. Instead of time-consuming customer acquisition, Fiverr's customers are "all already there". You only have to make them aware of you and your service.
You can publish multiple gigs on Fiverr, so you can offer, for example, services in the field of "translations" and services in the field of "programming" with the same account and you are therefore very flexible.
Setting up your Fiverr account is very easy and quick. Fiverr "rewards" sellers with especially many/good ratings etc. by moving them up in the ranking, which can lead to more visibility and thus more sales. This motivates especially in the beginning.
After you receive a review from a buyer, you can rate the customer as well, which prevents unjustified bad reviews from buyers, at least to some extent.
Income can be cashed out no later than 2 weeks after the end of the gig. Personally, this has always worked smoothly and quickly so far.
The use of Fiverr is free of charge in itself, there are no costs. Only after a gig is completed, Fiverr keeps 20% of the revenue.
Nevertheless, Fiverr offers a good entry into the world of free and location-independent work. Since you don't have to sign up for a subscription or pay any other basic fees on Fiverr, you can simply try out freelancing without any costs or pressure and earn your first money online.
What are Disadvantages of Fiverr?
Fiverr keeps 20% of your earnings as "commission". You must be aware of this before you set your prices. At the same time, the competition on Fiverr – depending on the service – is very high. Above all, you're competing with freelancers based in lower-income regions compared to Germany. For those, an hourly wage of $5 may be really good, the question is whether you'll settle for that. And taxes are also incurred.
Which brings us to the next point: Depending on what exactly you offer on Fiverr, your hourly wage will most likely be below the (German) minimum wage. At least at the beginning. For services where there is a relatively high level of competition, such as German-English translations, you can expect a much lower hourly rate than for programming services.
If you have created a new account on Fiverr, you also face the problem that hardly any customer will book your gig, because your trust level is very low without ratings as "New Seller". To compensate for this, you will have to offer your services very cheaply, especially in the first few months, to possibly attract someone to your gig after all. If you have enough customers and thus positive reviews, you can also increase your prices, but until then it is a long way.
Gigs are usually created in English and you will also have to write in English with most clients. If you don't know English at all, it will be difficult for you.
What shouldn't you do on Fiverr?
As a company, Fiverr logically strives to grow, which means bringing more and more buyers and sellers to the platform and keeping them there for as long as possible. Therefore, as a buyer, under no circumstances should you advertise other companies in the chat box or post links that lead to other (freelancer) websites. Since Fiverr doesn't want sellers to be poached, doing so risks deleting your account.
Conversely, as a seller, under no circumstances should you suggest that the gig be processed outside of Fiverr in order to avoid the 20% fee, for example. On the one hand, the security that you have as a seller on Fiverr is then omitted, on the other hand, this can also lead to the blocking/deletion of your account. If you are looking for freelance jobs outside of Fiverr, you should offer your services on other platforms from the beginning.
Fiverr also prohibits the opening of multiple accounts by the same person. Instead, create multiple gigs in one account and use one account as both a buyer and seller account.
Do I need to Register a Business for Fiverr?
Do you want to offer services on Fiverr with the intention of making a profit? Since you are reading this article about "Make money on Fiverr", I would answer this question with "Yes". If there is an intention to make a profit, you must also register a business. In practice, you can first sign up on Fiverr, create your gig and see how it goes (maybe no one books and you give up on your plan). However, at the latest when someone actually books your service, i.e. you earn money, you must register a business (this applies for Germany, check out the legal rules in your country).
Is there a Bonus Program?
Fiverr currently offers a 10% discount voucher* on your first order.
Note: The coupon really only works for your first order, it will not work for any other order.
Experience with Fiverr
My experience with Fiverr covers two areas: Experience as a buyer and experience as a seller.
Not much can be said about my experience as a buyer: I have only had good experiences so far, and always received good quality for narrow money.
From a seller's point of view, I'm still ambivalent: I created a seller account on Fiverr at the beginning of 2021, just to test whether it is actually possible to make money on Fiverr. Strangely enough, the gig created was not findable in the Fiverr search for almost a year (and that even though it was published!). Despite sorting by ,,Recent Gigs" and also not sorting through to page 50+ it showed up. Accordingly, the Fiverr statistics showed zero clicks/impressions for a long time.
I had already given up hope and didn't even pay attention to Fiverr when suddenly, about 10 months after creating/publishing the gig, the first customer request came in. It was about a translation activity. The custom order I created was accepted by the customer and I was also lucky enough to develop a longer-term cooperation, so I now receive about 2 orders every week from that same customer. The transfer of revenue to my account worked without any problems.
So yes, you can definitely make money on Fiverr, although it may take a while (no idea why it took so long before my gig was even findable).
The question of whether it is worthwhile – in terms of time and money – is one that I cannot yet answer conclusively. I'm sure it depends a lot on the type of service you're offering and how big the competition is. Especially in the beginning, you should not mind working below German minimum wage. Personally, I use the tactic of first attracting customers with low prices and high quality and thereby collecting many (positive reviews). As soon as I realize it's going, I adjust the prices upward accordingly.
As soon as I have more experience, I will create a separate experience report on Fiverr.
Conclusion about Fiverr – Is it worth it?
Yes, you can make money on Fiverr, but don't expect to get rich (quickly) from it. In most niches, you'll be competing with freelancers from developing and emerging markets, so to attract clients in the first place, you'll inevitably have to sell yourself short. But as soon as you have risen in the level, quasi proved your expertise and your reliability, customers will also be willing to pay higher prices. Higher prices can then even be seen as a sign of quality, "Made in Germany". So if you stick with it, you can definitely make a nice side income or even main income on Fiverr. In addition, it is worth it just for the fact that you are not geographically bound as a freelancer with Fiverr. Moving to a country with a lower cost of living and taxes can therefore also make a lot of sense.
FAQ
In this post you can read how to make money with eBay Kleinanzeigen (Classifieds).