Make money from copywriting: Is it possible? Definitely! Copywriting is one of the most potentially lucrative ways to make money online. If you love writing and have an affinity for sales, copywriting is perfect for you. In this blog article, I'll show you how to learn copywriting, how to start your successful copywriting business or alternatively get started as a copywriting freelancer, how (and how much) money you can make with copywriting, and which copywriting platforms are best for this.
What is Copywriting?
Copywriting is a form of writing that aims to persuade people to perform a particular action. It's the art of selling through words. A copywriter uses targeted and persuasive language to spark a reader's interest, curiosity, and desire to buy a product, use a service, or take a desired action.
The term "copy" comes from marketing and refers to the text used in advertising campaigns, ads, websites, emails, sales pages, and other marketing materials. So, a copywriter is a professional copywriter who specializes in creating persuasive and effective advertising copy to achieve specific goals.
The best tips to learn copywriting
Copywriting is a skill that can be developed and refined. If you want to learn copywriting, there are some proven tips that can help you improve your skills and become successful in this field. Here are some tips you should follow to make money from copywriting:
Study successful copywriters
One of the best ways to learn copywriting is to learn from the best. Examine successful advertising campaigns, sales pages, and ads and analyze how the copy is structured, what words and phrases are used and how they persuade the reader. By familiarizing yourself with the techniques of experienced copywriters, you can gain valuable insights and improve your own skills.
Learn the basics of marketing
Copywriting is closely related to marketing. It is important to develop a basic understanding of marketing concepts such as audience analysis, positioning, customer value, and buying psychology. Study books, take online courses, or attend workshops to expand your knowledge in this field. The better you master basic marketing understanding, the more effectively you can tailor your copy to meet the needs of your target audience.
Practice regularly
As with any skill, copywriting requires practice. Write as often as possible to improve your writing skills. Set a goal to write regularly, whether it's blog posts, short stories, or sales copy. The more you write, the more you will find your voice as a copywriter and develop your skills.
Learn from feedback
Solicit constructive feedback from other copywriters or professional copywriters. Use online forums, communities, or writing groups to share your work and get feedback. Feedback from others can help you identify weaknesses, improve your writing and gain new perspectives.
Attend copywriting classes or workshops
There are manyonline courses, coaching, workshops and seminars* that are specifically geared towards copywriting. These can help you learn new techniques, expand your skills, and network with other aspiring copywriters. By exchanging ideas with like-minded people, you can benefit from their experiences and gain valuable insights.
Stay up to date
The world of copywriting is constantly evolving and it's important to stay up to date in order to make money as a copywriter in the long run. Follow industry trends, read books by renowned copywriters, subscribe to relevant blogs or podcasts, and keep up with the latest marketing strategies. By continuously updating your knowledge, you can develop your skills and adapt your texts to the changing needs of the market.
Learning copywriting takes time, patience, and dedication. It's an ongoing process where you can constantly improve and evolve. By following these tips and continuously working on your skills, you can establish yourself as a successful copywriter and make money with copywriting.
How to start your own copywriting business
After you learn the basics of copywriting, you can make money as a copywriting freelancer and later, when you have more clients than you can handle on your own, you can even start your own copywriting business by hiring other copywriting freelancers. Here are the steps you should follow:
1. Define your target group
Before you start your copywriting business, you should be clear about the type of business you want to target. Think about which industries you're particularly good at or which audiences you like to write for. Specialization can help you stand out from the competition and position you as an expert in a particular field.
2. Build your copywriting portfolio
A compelling portfolio is critical to convincing potential clients of your copywriting skills. Write examples of sales copy for different industries to show that you are able to meet diverse needs. You can also create fictional projects to demonstrate your creativity and skills. Remember that quality comes before quantity. It is better to present a few outstanding examples than a large number of mediocre texts.
3. Networks
Make contacts in the industry to reach potential customers. Attend industry events, conferences, or meetups to network with other copywriters and marketers. Also use online platforms, forums or social media to build your network and connect with potential customers. Networking is critical to generating leads, getting assignments, and ultimately making money with copywriting.
4. Offer your copywriting services
Create an attractive proposal that describes your copywriting services. Consider what type of copy you want to offer, such as blog posts, website content, product descriptions, or email campaigns. Define your prices and create clear packages or options so potential customers know what to expect from you. You can advertise your services on your own website and also register on freelancer platforms* to look for jobs. I have compiled the best freelancer platforms for copywriters below.
But already in advance. My favorite isFiverr*, the largest freelancer platform where you can both work as a copywriter and hire copywriters for cheap. Depending on whether you want to work as a copywriting freelancer yourself or prefer to start a copywriting business by coordinating other freelancers.
---
Fiverr currently offers a 10% discount voucher* on your first order. Be quick and register now!
---
5. Build an online presence
A professional and appealing website is a must to attract potential customers. Create a website where you provide information about your services, portfolio, client testimonials and how to contact you. Optimize your website for search engines so that potential customers can easily find you. Also use social media to share your content and showcase your expertise.
6. Provide excellent customer service
A satisfied customer is the best advertisement for your business. Provide excellent customer service, be reliable, meet deadlines, and be responsive to your customers' needs. Communicate clearly and regularly with them to make sure you are meeting their needs. Satisfied customers will recommend you to others and help grow your business.
The best copywriting platforms
If you want to make money from copywriting online, there are several platforms that can help you find jobs and work with clients. Here are some of the best copywriting platforms you should consider:
Fiverr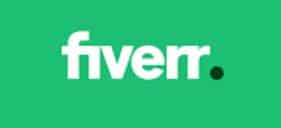 Fiverr* is one of the world's largest online marketplaces for digital services. On the platform, freelancers around the world can offer their services at a certain price. Create a Fiverr profile where you describe your copywriting services and offer different packages. Clients can choose you based on your profile and reviews and hire you as a copywriter.
Fiverr is, in my opinion, the best platform to get your first clients as a copywriter and start making money with copywriting. Later, when you have established yourself as a freelance copywriter, with many well-paying clients outside of Fiverr as well, you can use Fiverr as a talent pool by having other Fiverr freelancers work for you. This way, you can earn even more money by building your own copywriting business. On Fiverr you can find all kinds of experts to help you build your business, be it creating a website, appealing logos, an advertising campaign and and and…
---
Fiverr currently offers a 10% discount voucher* on your first order. Be quick and register now!
---
I have described my experienceswith the platform Fiverr in this article.
Upwork
Upwork is one of thelargest freelancer platforms and offers a wide range of copywriting jobs. Next to Fiverr, Upwork is my favorite freelance platform. You can create a profile there, present your skills and experience and bid on the various job offers. If you want to make money from copywriting, there's no way around Upwork either.
Textbroker
Textbroker is a platform that specializes specifically in copywriting and content marketing. As a copywriter, you can register on Textbroker and work on jobs posted by clients. The platform offers a rating system that allows you to gradually receive better compensation for your work.
WriterAccess

WriterAccess is a platform that connects copywriters with businesses. You can register on WriterAccess and bid on various jobs posted by companies. The platform also offers a rating system that allows you to improve your profile and get access to higher quality projects.
Register copywriting business
If you want to start your own business as a copywriter, you must report this to the appropriate authorities. If you work as a freelance copywriter (whether copywriter or SEO copywriter) for other people, the authorities may classify you as a "Freiberufler" (but this does not have to be the case, it always depends on the individual case). This classification, in contrast to the classification as a "Gewerbe", brings with it some advantages, such as simpler accounting and the waiver of paying trade tax. However, if you hire other freelancers to write for you, i.e. you have a copywriting business, this is classified as a trade (=Gewerbe) and you must register a copywriting business accordingly. In any case, consult your competent authority and/or your tax advisor before starting your self-employment and keep in mind that this can vary from country to country.
Copywriting salary
The salary of a self-employed copywriter varies, depending on your experience, your area of expertise and the type of assignments you take on. As a beginner, your copywriting salary will initially be between 25 and 50 dollars per hour, while with a few years of experience you can earn over 100 dollars per hour. There is also the option of working on a project basis or on a contingency basis. You'll make extra money if you're a specialist in your field, focused on conversion optimization, and get paid based on success, possibly even with profit sharing. Then hourly wages of more than 200 dollars are possible.
If you are so successful as a copywriter, it is a good idea to take the step towards entrepreneurship and push a copywriting business where you take on the role of coordinator and employ other copywriters on a freelance basis. With enough orders, your business is virtually infinitely scalable, as is your income, and you can also earn a long-term passive income in the long run.
Conclusion: Make money from copywriting – does it work?
The question of whether you can make money with copywriting can be answered unequivocally with "yes". Copywriting is an established and sought-after discipline that plays a central role in the marketing and advertising industry. Companies are constantly looking for talented copywriters to create compelling and impactful content that engages their target audience and inspires action.
So if you have a penchant for writing, sign up on platforms like Fiverr* and give it a try. As you gain experience, you can have other copywriting freelancers work for you and earn even more money.
---
The supreme discipline is building passive income. In this article you will learn how to build different types of passive income.
One type of passive income is investment income (interest and dividends) from instant-access and fixed-term deposits, stocks, ETFs, Crypto-Coins and P2P loans. Here are my personal TOP 3 investment providers for generating passive income streams. Sign up and get discounts and bonuses:
Top 3 Providers for your Investment
Personally, I use all three providers – for a maximally diversified portfolio consisting of instant-access and fixed-term deposits, stocks, ETFs and crypto as well as P2P.