Introduction: Earn Money with Instagram
Hello and welcome to today's blog article on making money with Instagram. In this article, I want to show you how to turn your Instagram presence into a lucrative source of income and at what point you can start making money with Instagram (how many followers you need to make money with Instagram).
Instagram is one of the most important platforms for marketing and advertising nowadays. With over one billion active users, it's a place where businesses and brands can draw attention to potential customers. But not only companies can profit from Instagram – you as an influencer or Instagram user can also earn a lot of money with your account.
However, before we get to the specific ways to make money on Instagram, we first need to look at the requirements for doing so.
Requirements for Making Money on Instagram
To earn money with Instagram, it's important to build a strong presence on Instagram. This means you need to regularly publish content that appeals to your target audience and achieves a high engagement rate. Here, you should also make sure to find a niche in which you are knowledgeable and in which you can achieve a high reach.
Furthermore, it is important to know the relevant hashtags and use them in your posts as well. Tagging allows you to increase your reach and attract potential customers to you. Another factor for success on Instagram is visual storytelling. The way you present your content is of great importance and should always be aesthetically pleasing.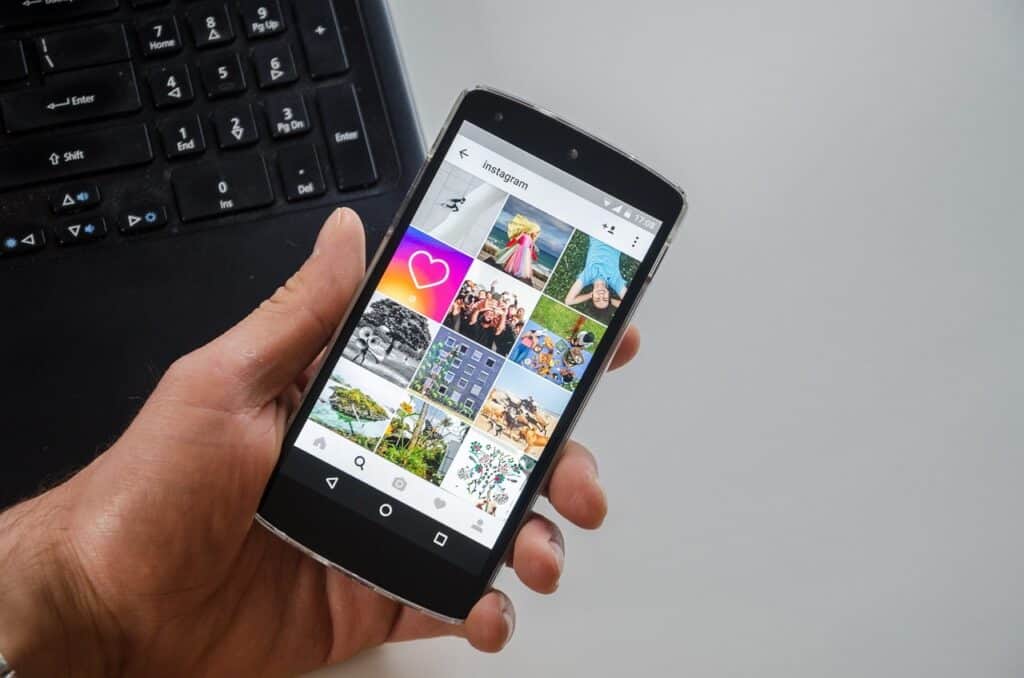 Monetization Opportunities on Instagram
Now to the concrete ways to make money with Instagram.
Influencer Marketing
In influencer marketing, you work with brands and companies to promote their products or services. In this case, you usually receive compensation or you are provided with the product free of charge.
Affiliate Marketing
Here you promote products or services of other companies and receive a commission when your followers buy these products through your affiliate links.
Create Digital Products
If you're an expert in a particular field, you can create an e-book or online course and sell it on Instagram.
Offer Social Media Services
If you have a professional Instagram profile as well as many followers, you can offer your skills to others. For example, you can help other businesses or influencers improve their social media presence and receive compensation for doing so.
Photos Sale
If you're a talented photographer, you can promote (with watermarks) and sell your photos on Instagram.
Sale of Physical Products
To earn money with Instagram, you can also, instead of digital products, create physical merchandise like t-shirts or posters instead and promote them through Instagram.
Sponsored Posts
If you already have a larger follower count, companies could reach out to you directly and offer you compensation for mentioning their products in your Instagram posts.
Virtual Assistant
You can also generate revenue indirectly with your Instagram account by using Instagram to promote the services you offer. This way, interested parties can become aware of your profile and employ you, for example, as a virtual assistant in the area of Instagram.
Sell Instagram Presets
If you like being creative and have experience editing photos, you could create your own Instagram Presets and offer them to other users. Presets are preset filters that you can apply to your images to give them a certain look. These Presets are available for various photo editing programs, such as Adobe Lightroom or Photoshop.
The use of Presets has gained quite a bit of popularity on Instagram in recent years, as they allow users to customize their Instagram feed with a consistent look. Influencers and photographers have therefore started to create their own Presets and sell them either directly on Instagram or on their own websites or marketplaces like Etsy or Creative Market.
Sell Instagram Accounts
If you have an Instagram profile that has a large number of followers, you could sell that profile. There are actually companies and individuals who are willing to pay for an established Instagram profile with a large reach.
Tips to Make Money on Instagram
In order for you to successfully earn money with Instagram, you should also follow these tips:
Choose a Niche
To be successful on Instagram, you should focus on a specific niche. Your Instagram account should have a specific theme or audience so that you can create relevant content that is targeted to your audience.
Create High Quality Content
The quality of your images and videos is crucial to the success of your Instagram account. Make sure your content is engaging and professional.
Use Hashtags
Use relevant hashtags to categorize your content and gain more visibility on Instagram. However, don't use too many hashtags as this can be seen as spamming.
Use Instagram Tools
Use analytics tools provided by Instagram, such as Insights and Analytics, to measure the performance of your content, adjust your strategy accordingly, and optimize your reach.
Build a Community
Interact with your followers and answer their questions and comments. Offer them exclusive content and occasionally run contests to win their loyalty.
Collaboration with Brands and Companies
If you have a large number of followers, you can collaborate with brands and companies and advertise their products or services.
Sell Products or Services
If you have your own brand or business, you can sell your products or services through Instagram.
Sell Digital Products
You can also sell digital products like e-books, online courses, or presets through Instagram.
Be Authentic
Be authentic and honest in your Instagram presence and only promote products that you stand behind 100%.
Invest Time and Energy
To successfully make money on Instagram, you need to invest time and energy into building your account. Be patient and keep at it, even if it seems difficult at first.
At what Point do I start Earning Money with Instagram?
Probably the most common question people ask when they want to earn money with Instagram is:
When can I make money with Instagram and how many followers do I need?
The answer is not simple, as it depends on many factors.
The first factor to make money with Instagram is the size of your Instagram presence. The more followers you have, the more opportunities you have to make money with your Instagram account. Generally speaking, however, there is no set minimum number of followers needed to make money on Instagram. Some people have successfully built their business with just a few hundred followers, while others struggle to make money with several thousand followers.
Another important factor is the quality of your content. If you create quality content that is targeted to your audience, you will be more likely to be able to make money from your Instagram account. A consistent look of your feed and brand presence can also help brands and businesses take notice.
Another factor is the type of monetization you're aiming for. There are several ways to earn money with Instagram, such as affiliate marketing, sponsorship, product placements, or selling your own products or services. Some of these options require a larger number of followers, while others work with smaller accounts.
1000 Followers on Instagram
From experience, I would say you need at least 1000 followers to generate relevant revenue. If you serve a very specific niche and have very loyal, active followers, 1000 followers can be enough to earn several hundred DOLLAR a month by selling your own products/services or similar.
Above 10,000 Followers on Instagram
If you have more than 10,000 followers, your chances of earning money are significantly higher, as companies will then pay more attention to you and you can advertise their products (sponsored posts). So you can earn several hundred dollars per post. Together with other income, such as the sale of your own products, it is therefore entirely possible to start out as a full-time Instagramer with as few as 10,000 followers and make a good living from it.
Above 100,000 followers on Instagram
With 100,000 Instagram followers, you're already in the top 0.1%. A single sponsored post can already bring in several thousand dollar. If you get the 100,000 followers right, you can make a lot of money with Instagram and you will soon be financially free.
Legal Aspects of Advertising on Instagram
It's also important to be aware of the legal aspects of advertising on Instagram if you want to make money from it. The labeling requirement is an important issue here. If you promote products or services, you must label this as advertising. There are several ways to do this, for example by using the hashtag #advertising or #ad. The labeling obligation is required by law and should be strictly observed.
Also, it's important that you only work with reputable companies and brands that fit your account and target audience. Make sure you don't accept any dubious offers or get caught up in false promises. In the worst case, this can not only damage your reputation, but also result in legal consequences.
Conclusion: Earn Money with Instagram
Overall, Instagram offers a variety of ways to make money with it. With the right strategy, a lot of dedication and perseverance, you can turn your Instagram presence into a lucrative source of income. However, it is important to be aware of the requirements, the different monetization options and the legal aspects.
I hope that I could give you some useful tips and tricks with this article. Now it's up to you to optimize your Instagram presence and take full advantage of the platform's potential. I wish you much success with it!
Besides Instagram, there are a lot of other ways to make money on the Internet. Below you will find detailed guides with tips describing and explaining the different ways to make money:
---